---
It is winner takes all in Group A of the Champions League this evening. PSG travel to the Emirates with both sides knowing that the winner will top the group and be granted a presumably easier tie in the next round. It finished 1-1 when the two sides met in Paris but a lot has happened since then.
––
Matchday: Team News – Predicted Lineup – Betting Preview

Match: Arsenal v Paris Saint Germain
Stadium: The Emirates Stadium
Kick-Off (GMT): Wed 23 Nov 19:45
—–
Background
It's as close as you're going to get to a cup final in November. Arsenal take on PSG at the Emirates Stadium this evening with both sides knowing that a win will guarantee top spot in Group A of the Champions League.
The Gunners haven't lost since the opening match of the season but have stuttered of late, failing to win their last two. The poor performance on Saturday was slightly excused by the late Olivier Giroud equaliser. Arsenal have won just one of their last three home matches with the Emirates proving to be something of a burden on Arsene Wenger's men.
Paris Saint-Germain, meanwhile, are enjoying life under Unai Emery. The Ligue 1 champions have won 10 of the 12 matches they have played since the draw against Arsenal in September. Edinson Cavani has begun to find the net again. The Uruguayan has an incredible 10 goals in eight Ligue 1 matches since the last time these two sides met.
What They're Saying
It was 1-1 last time these two sides met and Arsene Wenger will certainly be the happier of the two managers if that were to happen again considering the two teams' goal difference. The winner will top the group but could still face a tough test.
Real Madrid and Bayern Munich are both in second place in their respective groups and would provide a formidable opponent for any team. However, the Arsenal boss is still determined to finish as winners and increase the possibilities of an easier draw.
Don't Miss:
"We have done the job until the end in a convincing way," Wenger said in his pre-match press conference. "It's a luxury to be qualified after four matches, so last year we had to battle until the end and this season we can finish the job after 5 games and that would mean we've done well.
"It's a cup final over 90 minutes. We need to be serious both defensively and offensively. Both sides will be solid defensively.
"PSG like to take the game to their opponents and so do we. I think the first round was very open and a good game, I hope that will be the case tomorrow night."
Wenger also spoke about Paris Saint-Germain and their current form and the Arsenal boss seems convinced that he will be facing a different side tonight to the one the Gunners faced in September.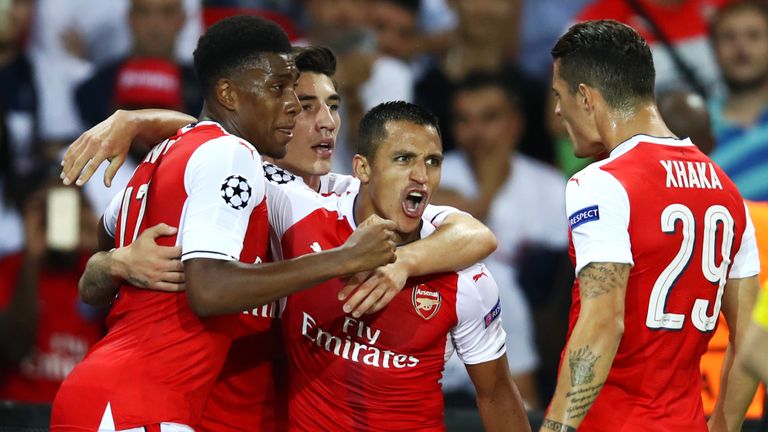 "PSG played their best game of the early part of the season against us in terms of the previous meeting we weren't on top, we needed a good performance from our goalkeeper and were able to draw," Wenger went on.
"It's an opportunity for us to prove we have progressed. I don't think PSG always pushed to win their league matches so it's hard to draw comparisons on that with their CL matches.
"I think, to begin with, [Unai] Emery tried to find some common ground with the previous playing style and what he's trying to create. Between the first match between the two sides and today, I think he's found that balance."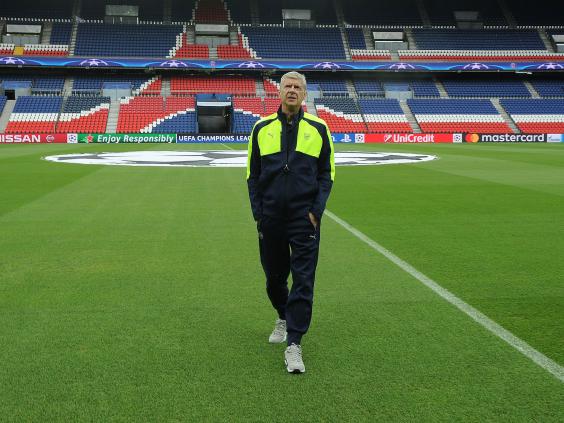 Much of the focus of Unai Emery's press conference was focussed on Serge Aurier. The full-back will not play tonight after he was refused entry to the United Kingdom over a criminal conviction. It's an unusual situation and Emery is clearly disappointed.
"All the players wanted him to be here," the Spaniard confirmed at his pre-match press conference.
"The decision has been made and I think [Thomas] Meunier, who is the obvious choice to replace him, has already played in big games and is ready to step in.
"We have solutions. Serge is an important player; it is a shame, especially for him. He is obviously disappointed."
Aurier might not be alone in missing the match for the visitors. There are concerns over the fitness of Angel Di Maria and Alphonse Areola.
"The final training session is important," Emery went on. "Alphonse and Angel will start the final session and we will see how they go. I think Alphonse will be available. Kevin [Trapp] is also full of confidence, so if he plays, he will perform.
"For Angel, there is still a doubt. He wants to play. We will see after training. If he does not have any pain in his foot, he will be available. We will make a decision with the doctors, but we will not be taking any risks."
Team News
As previously mentioned, PSG could be without a number of first-team players. The visitors could be without Angel Di Maria and Alphonse Areola but the pair would not be alone. Serge Aurier is clearly missing, as is the midfield pairing of Adrien Rabiot and Javier Pastore.
For the Gunners, things are a little less certain. Arsene Wenger said in his press conference that neither Theo Walcott nor Aaron Ramsey trained ahead of the match and while Walcott should play, things are a little less clear for the Welshman. Also ruled out of the match are Hector Bellerin, Santi Cazorla and Lucas Perez as well as the long-term absentees. It's unclear whether Alexis Sanchez will start the match given his recent fitness concerns while on international duty.
See here for the full team news article.
Predicted Lineup
Despite those concerns, we expect Alexis to start the match. The Chilean should line up on the left-hand side, allowing super sub Olivier Giroud to start from the off. We expect Carl Jenkinson to continue to fill in for Hector Bellerin and Granit Xhaka to start in midfield alongside Francis Coquelin.
See here for the full predicted lineup article.
Stats
Arsenal have kept four clean sheets in their last five Champions League matches at the Emirates
PSG have lost just two of their last ten matches against English opposition
Olivier Giroud has four goals in his last three substitute appearances
Prediction
Arsenal 2-0 PSG
Facebook Comments