---
Arsenal are without a win in three matches and will need to take maximum points as they welcome AFC Bournemouth to the Emirates this afternoon. Eddie Howe will, of course, be without on-loan Arsenal man Jack Wilshere who is unavailable.
––
Matchday: Team News – Predicted Lineup – Betting Preview

Match: Arsenal v AFC Bournemouth
Stadium: The Emirates Stadium
Kick-Off (GMT): Sun 27 Nov 14:15
—–
Background
Arsenal notched up their third successive draw in midweek against Paris Saint-Germain. The Gunners are still unbeaten since the opening match of the season but will need to get back to winning ways if they are to keep up with their title rivals. There were wins for Manchester City, Chelsea and Liverpool yesterday and the Gunners simply have to do the same if they are to stay in touch of the top.
AFC Bournemouth, meanwhile are progressing well. The two defeats against Middlesbrough and Sunderland were disappointing but performances have been promising. The Cherries are tenth in the table after a number of big victories but face a tough run of fixtures. Eddie Howe's men face Arsenal, Chelsea and Liverpool in their next six matches.
What They're Saying
Much of the focus of Arsene Wenger's pre-match press conference was on the fact that the Gunners haven't won in three matches. Wenger seemed optimistic about it but determined to set things right later this afternoon.
"The positive side is that you don't lose but it's not positive for us, we want to win our games," Wenger told the press. "We have built momentum but sometimes you go through spells where it's less easy for you and we want to get back to the three pointers.
"That's why I believe we have to find our game back.
Don't Miss:
"We didn't lose but if you don't create then that won't last. It's important that we find our simplicity and speed and pacy combinations back.
"We've missed our fluency and security in our decision making that made us dangerous in the final third and that's what at stake for us."
Wenger acknowledged that one of the main reasons the fluency is missing is down to the absence of Santi Cazorla. Arsenal won just three of the last seven matches which the Spaniard has missed and Wenger seems aware of how important the Spaniard is to the team.
"He's important to the technical stability of the team," Wenger went on. "To the decision making and building from a deep midfield to a high midfield.
"That's an important stage because he gets the ball out from defenders.
"I think we have enough quality players in our side to get around that.
"Santi is a massive player but I think we are good enough to find solutions when he's not there."
Eddie Howe, meanwhile, was full of nothing but praise for Arsene Wenger and Arsenal ahead of the clash between the two teams.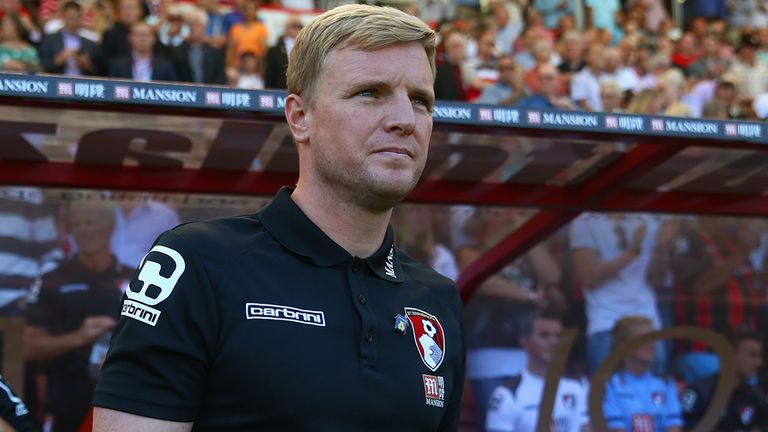 "I have been a big fan of their style of football for a number of years in terms of how they play and how loyal they are to their philosophy – win lose or draw, they will continue to do the same things, but do them better," Howe said in his pre-match press conference.
"The integrity of the club and the manager, how he conducts himself, I am a big fan of the club in a number of ways.
"Naturally as a player I would watch the top teams and aspire to be those top players. Arsenal were a side I watched a lot to find ways to improve my own game.
"Since becoming a manager I do the same thing. You watch the top teams and look at how you can get your team closer to that, so Arsenal, along with a number of other clubs, have had a big influence on my football ideas.
"I would say there are slight similarities between how we play and how they play, but I would not say we are identical.
"There are differences in players and ideas, but we are following the same paths, I think."
Eddie Howe has long been cited as a possible successor to Arsene Wenger at Arsenal. Bournemouth have a similar playing style to the Gunners and Howe is undoubtedly one of the best young English managers working right now.
Team News
There isn't much of a change expected between the Arsenal squad which took on PSG in midweek and the one fit for today. Hector Bellerin and Santi Cazorla continue to sit on the sidelines but Lucas Perez is back in training and could be in contention for the game in midweek.
The visitors could also be without a number of key players. Jack Wilshere is obviously absent for the match but Eddie Howe could also be without Artur Boruc, Jordan Ibe and Andrew Surman, all three are facing late fitness tests ahead of the fixture.
See here for the full team news piece.
Predicted Lineup
The Gunners should welcome back Petr Cech to the starting lineup but it's unclear whether Nacho Monreal and Theo Walcott will join him. There are options in midfield as well with Francis Coquelin, Granit Xhaka, Mohamed Elneny and Aaron Ramsey all pushing for starting spots. We think that Aaron Ramsey and Granit Xhaka will get them but it wouldn't be a surprise to see Francis Coquelin displace the Swiss international.
See here for the full predicted lineup piece.
Stats
Arsenal won both previous meetings between the two clubs 2-0
The Gunners are without a clean sheet in five matches
AFC Bournemouth have won just one of their last five away matches
Mesut Özil got two goals and an assist in the two matches against Bournemouth last season
Prediction
Arsenal 4-1 AFC Bournemouth
Facebook Comments