---
Arsenal travel to Old Trafford today for one of the most anticipated matches on the calendar for both teams. The recent history is undoubtedly with both United and Jose Mourinho but the Gunners are on a great run of form and are certainly in with a shout.
––
Matchday: Team News – Predicted Lineup – Betting Preview

Match: Manchester United Arsenal
Stadium: Old Trafford
Kick-Off (GMT): Sat 19 Nov 12:30
—–
Background
Arsenal are still on an unbeaten run stretching back to the first match of the Premier League season. The 16 game run is the longest unbeaten stretch the Gunners have been on since 2009 and will be looking to carry it on in Manchester. After all, Arsene Wenger has a history of losing unbeaten runs at Old Trafford.
United, meanwhile, aren't exactly enjoying life under Jose Mourinho. The former Premier League champions have one just one of their last five matches in the league and are struggling both up front and in defence. On paper, it's a good time for Arsenal to play United but this one is far too close to predict.
What They're Saying
The history is hardly in Arsene Wenger's favour but he seemed somewhat optimistic about his team's chances in the pre-match press conference.
"We are in a very strong run," Wenger said, "16 unbeaten games, we had a little hiccup against Tottenham at home and we want to get back to winning our games and that's what we'll try to do on Saturday."
Don't Miss:
It's fair to say that the two managers haven't had the best of relationships in recent years. It's a rivalry which has bubbled over into a hatred at times so it's perhaps unsurprising that much of the focus of Wenger's press conference was on the Portuguese boss.
"Look I don't think I have to describe our relationship. He will fight for his team and I will fight for my team and I think that's completely normal.
"I think I've won against every manager in the world during my 20 years here. I do not think of these games as a competition between two managers, it's a competition between two teams and two clubs.
"I can understand that people want to create controversy but it's not that which makes the audience, what will make the audience is the quality of the game. We have seen a few games since the start of the season that didn't respond completely to the expectations of a match between the two teams.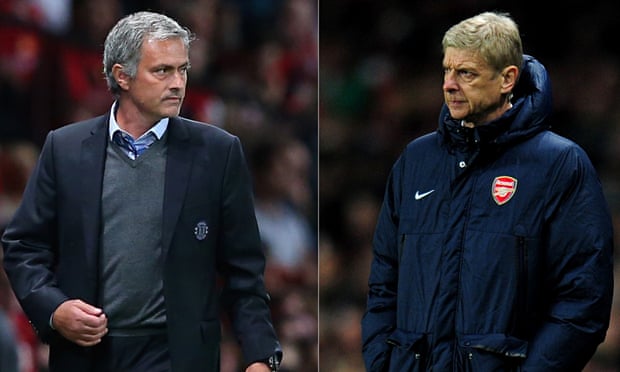 "I think it's important that it's a top-level game because it will be watched all over the world and for the reputation of the Premier League it's important that the quality of the game is good, that will be down to the players on the pitch."
Similarly, Mourinho's press conference was focussed on the two managers.
"This match is one between the two managers with the best records in Premier League," the United manager said. "Sir Alex Ferguson is not here anymore so between the two managers we are speaking about six Premier League titles.
"I have three, I think Mr Wenger has three. Does that mean we should be respected even in periods when our results are not the best?
"I think Mr Wenger has that respect from all of you, I don't think I have, especially because my last Premier League title was 18 months ago, not 18 years ago. So I don't think that I get that respect but it's not because of that that I sleep better or not so good.
"I just follow my way because I want to win a ninth championship and a fourth Premier League. I want to do that here. I am in the club where I want to be."
Team News
Manchester United are without a host of first-team players. Marouane Fellaini, Eric Bailly and Chris Smalling are all out injured and there are slight doubts over Wayne Rooney, Luke Shaw and Antonio Valencia. Up front, Zlatan Ibrahimovic is suspended so Marcus Rashford will probably start from the off against the Gunners.
Arsenal are also suffering from some injury problems with Hector Bellerin and Santi Cazorla joining Per Mertesacker, Lucas Perez and Danny Welbeck on the sidelines. Alexis Sanchez seems to be fit and ready to play despite the injury he picked up while on international duty with Chile.
See here for full team news piece
Predicted Lineup
We expect Carl Jenkinson and Granit Xhaka to come in for Hector Bellerin and Santi Cazorla with Alexis Sanchez starting up front. Other than that, Arsene Wenger can name his full strength team for the trip to Old Trafford.
See here for full predicted lineup piece
Stats
Arsenal haven't kept a clean sheet at Old Trafford since 2009
Arsenal have lost just one away match in the Premier League in 2016 – at Old Trafford in February
Mesut Özil has two goals in two assists in his last two matches against Arsenal
Wayne Rooney has scored 14 goals against Arsenal during his career
Prediction
Manchester United 0-0 Arsenal
Facebook Comments