---
Arsenal lost 3-0 to Manchester City for the second time in four days on another disastrous night for the Gunners.
—–
Matchday: Team News – Player Ratings – Match Highlights
Match: Arsenal v Manchester City
Stadium: Emirates Stadium
Kick-Off (GMT): Thu 1 Mar 19:45
—–
Arsenal started the match well. Despite losing 3-0 to this Manchester City side earlier, the Gunners really took the game to their opponents early on. Aaron Ramsey found space in good areas on a couple of occasions in the early stages of the match but it wouldn't last.
Leroy Sane broke clear of three Arsenal defenders before spreading the ball to the opposite flank. Bernardo Silva cut inside from the right and curled it past Petr Cech.
Ederson did well to stop Aaron Ramsey from equalising a few minutes later before Manchester City put the game beyond doubt before the 30-minute mark. A wonderful flowing attack from the visitors ended in David Silva firing it past Cech.
Don't Miss:
It was 3-0 just five minutes. Another incredible flowing move from Pep Guardiola's men cut through the Arsenal defence as Leroy Sane scored.
Arsenal were given a chance on a plate in the second-half. Nicolas Otamendi brought down Henrikh Mkhitaryan and the referee pointed straight to the spot. Unfortunately, Pierre-Emerick Aubameyang's tame effort was stopped by Ederson.
The game trickled away with both sides seemingly content with the 3-0 scoreline.
Here's how we rate the Arsenal players:
GK) Petr Cech – 3
Petr Cech didn't have his best match. The wait for that 200th Premier League clean sheet will have to wait for another week at least. He perhaps should've done a little better for the opening goal.
RB) Hector Bellerin – 3
He had an excruciating evening against Leroy Sane down Man City's left. Hector Bellerin was two yards off the German international for the entire match.
RCB) Laurent Koscielny – 3
He was poor this evening. Laurent Koscielny was sluggish and was caught out of position for a number of City chances.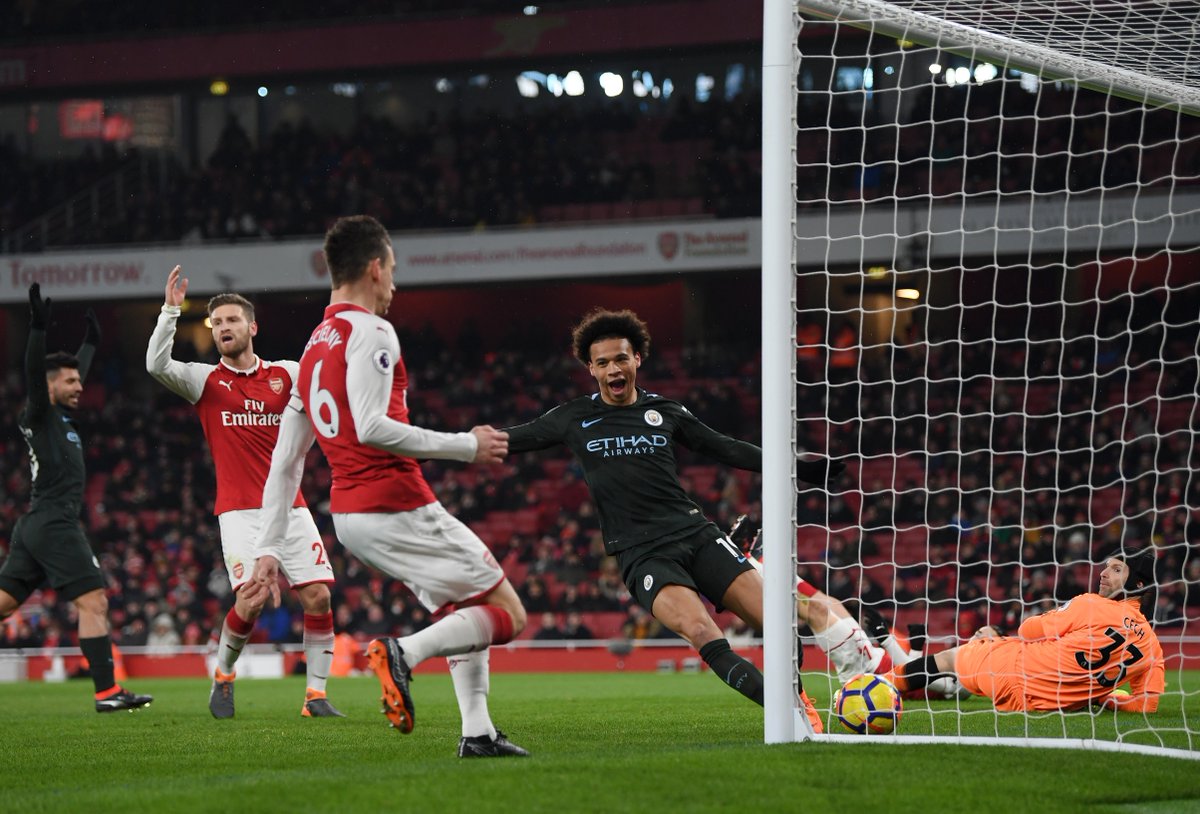 LCB) Shkodran Mustafi – 3
Another poor performance from Shkodran Mustafi. The German improved slightly from his performance on Sunday but not by much. He just doesn't deserve to be in the Arsenal first-team right now.
LB) Sead Kolasinac – 2.5
He was woeful. Sead Kolasinac couldn't get rid of possession quick enough this evening as he carelessly lumped it forward again and again. Much like Laurent Koscielny, he was often caught flat-footed against this flowing City attack.
RCM) Aaron Ramsey – 6.5
He played well, particularly in the first-half. Aaron Ramsey must be the only Arsenal player on the pitch able to claim that he actually performed to his level. The Welshman was unfortunate not to grab a couple of goals.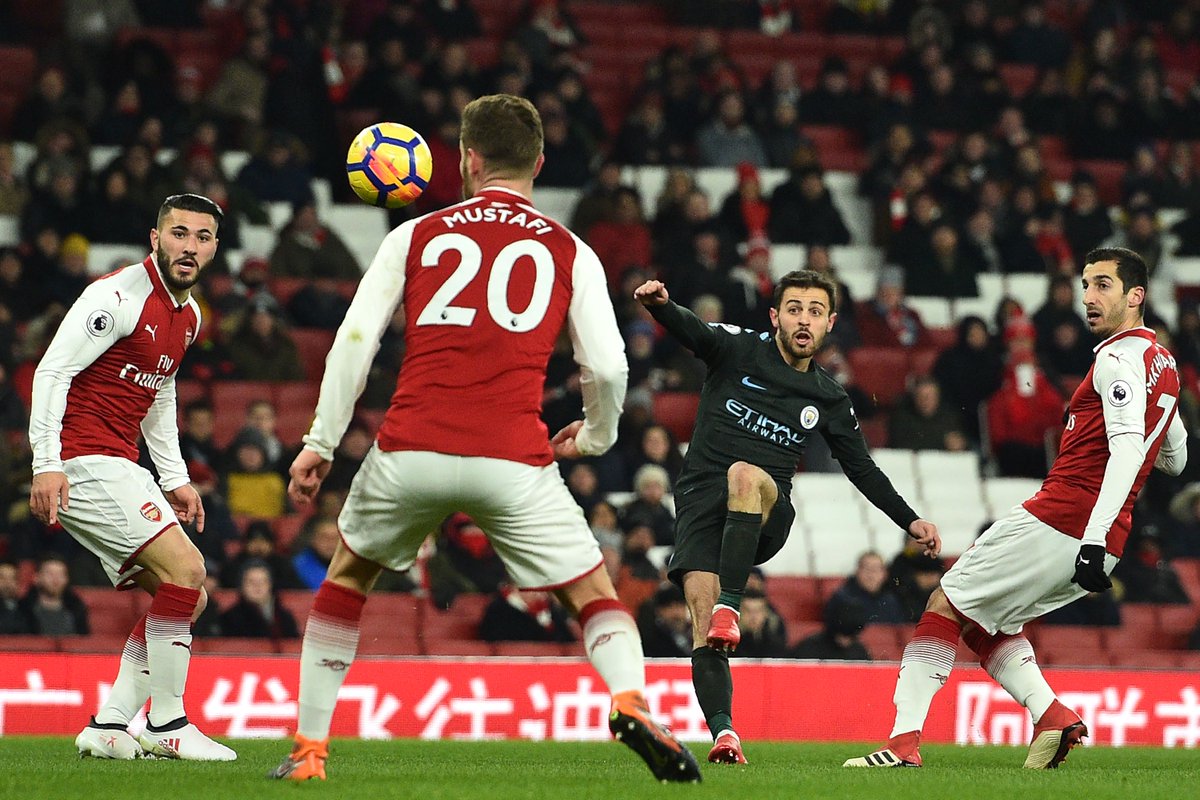 LCM) Granit Xhaka – 4
Another careless midfield performance from Granit Xhaka. He drifted out of position on far too many occasions and was exposed by this City midfield time and time again.
RAM) Henrikh Mkhitaryan – 4.5
Henrikh Mkhitaryan has played better during his career. The Armenian looked sharp early on but seemed to drift out of the game as it went on.
CAM) Mesut Özil – 3
He was woeful. Nothing seemed to work out for Mesut Ozil this evening as he consistently lost possession against a high-pressing City defence.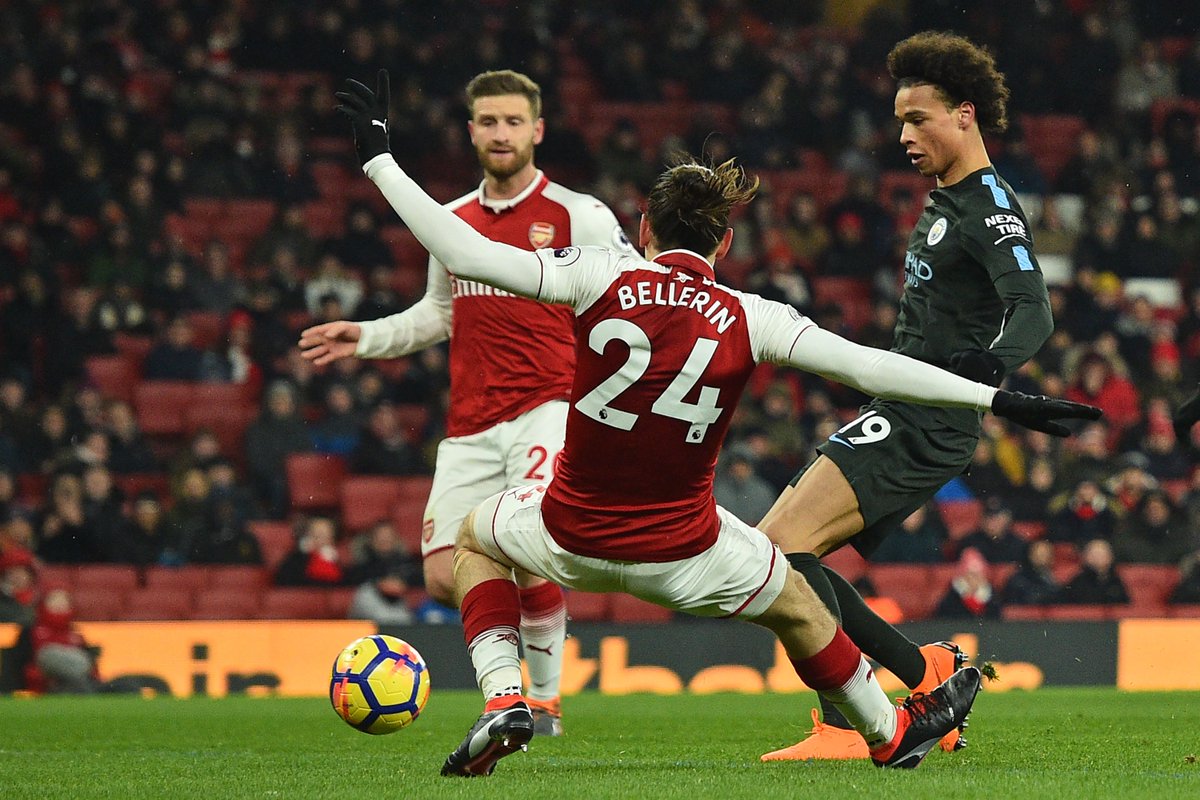 LAM) Danny Welbeck – 4
Danny Welbeck offered very little. The Englishman looked flat-footed and seemed to lack the confidence to take on the City defenders on the few occasions he had one of them isolated.
ST) Pierre-Emerick Aubameyang – 4
A poor outing for Pierre-Emerick Aubameyang. The former Dortmund man's penalty was particularly poor and fitting for what was a toothless offensive display.
Facebook Comments