---
Arsenal missed dozens of chances only to lose 3-1 to ten-man Manchester United at the Emirates Stadium.
—–
Matchday: Team News – Player Ratings – Match Highlights
Match: Arsenal v Manchester United
Stadium: Emirates Stadium
Kick-Off (GMT): Sat 2 Dec 17:30
—–
It was a huge match for both sides. The atmosphere was electric at the Emirates but, unforutnately, the away side settled quicker.
Arsenal looked a little nervy at the back, especailly so when Laurent Koscielny picked up the ball and tried to carry it out of defence. The Frenchman gave it straight to the visitors and it was Paul Pogba who found Antonio Valencia in space down the Arsenal left. The full-back took a touch and hit his shot low and hard between Petr Cech's legs to make it 1-0 within 3 minutes.
Arsenal needed to just settle and keep things tight for the next few minutes but that isn't what happened. Just seven minutes later and the Gunners were 1-0 down. Shkodran Mustafi gave the ball away this time and some nice play by United gave Jesse Lingard a free shooting opportunity to make it 2-0.
Don't Miss:
Mustafi pulled up in the aftermath of the goal and was replaced by Alex Iwobi. It's unclear how serious the injury to the German could be or if it was a tactical move from Wenger.
The game descended into anarchy in the minutes that followed. It opened up to an incredible degree as both sides had more than their fair share of chances to add to the two goals.
The most incredible moment of that spell came in front of David De Gea's goal. Alexandre Lacazette seized on a loose ball and ducked and dummied his way to craft an opening. The Frenchman's shot was tipped onto the bar by De Gea as Arsenal seized on the rebound and hit the post through Granit Xhaka.
Arsenal continued to drive forward throughout the remainder of the first-half. United weren't exactly comfortable in defence and would've conceded but for a wonderful last-line block from Nemanja Matic to deny a certain Aaron Ramsey goal.
Arsenal started the second-half just as they ended the first and got their reward early on. A simple ball over the top found the onrushing Aaron Ramsey in United's box. Everyone stopped besides the Welshman and Lacazette and as United appealed for offside, the Frenchman picked up the ball and made it 2-1.
The Gunners just kept creating incredible opportunities for themselves but David De Gea was at the end of every single one of them. The Spaniard made some incredible stops including a quickfire double to stop Alex Iwobi and Alexis Sanchez.
United broke for the first time in the second-half just after the hour mark but it proved effective. Paul Pogba just sidestepped Laurent Koscielny who was rash and squared it bal across the face of the goal for Jesse Lingard to tap in.
The Gunners kept piling forward but the drama wasn't over yet. Paul Pogba was shown a red card for a clear foul on Hector Bellerin as the home side pushed clear for a second. That didn't come and Arsenal were denied a penalty for a clear foul on Danny Welbeck.
Here's how we rate the Arsenal players:
GK) Petr Cech – 5
Petr Cech conceded three goals but it's hard to blame the keeper for this one. The stopper could do little about any of them and made a couple of solid saves of his own.
RCB) Laurent Koscielny – 3
A really poor performance from Laurent Koscielny. The Frenchman is wearing the captain's armband and should really set the tone for his team, especially in the early stages. However, Koscielny looked panicky and error prone as he gifted the ball to United for the opening goal. He should have defended better for the killer third goal too.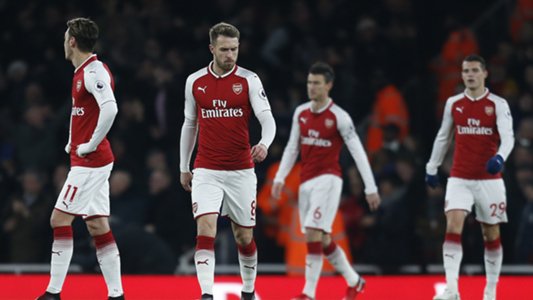 CB) Shkodran Mustafi – 2
Shocking 15 minutes from Shkodran Mustafi. He was out of position for the first goal and made a criminal error for the second. Terrible.
Sub: Alex Iwobi (15′) – 6.5
Alex Iwobi did well. Arsenal looked a much better side once the Nigerian was on the pitch. His touch and movement were both very good but he just needed to improve his final product.
LCB) Nacho Monreal – 5
He was okay. Nacho Monreal was the best of the back three but standards were low.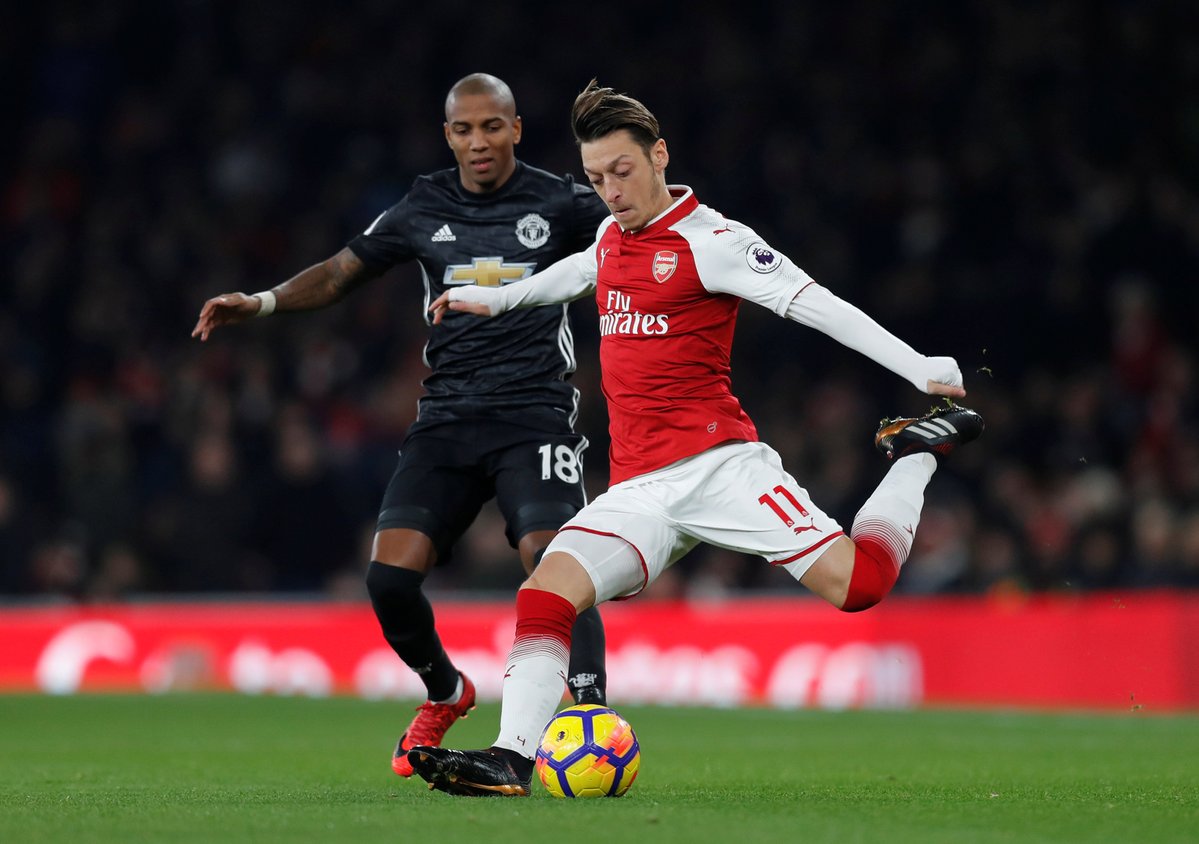 RWB) Hector Bellerin – 6
Hector Bellerin was okay. The Spaniard defended reasonably well but perhaps didn't carry as much of a threat moving forward as he could.
CM) Granit Xhaka – 7
Granit Xhaka played well. The Swiss midfielder kept possession well and sat in the right positions for the most part. However, he was unaware for the third goal.
Sub: Danny Welbeck (70′) – 5
Pretty quiet. Danny Welbeck didn't have much space but should've done more to create it.
CM) Aaron Ramsey – 8.5
A very good performance from Aaron Ramsey. The Welshman continued his excellent run of form with another impressive midfield performance. The attacked at the right times and did wonderfully well to set up Arsenal's goal.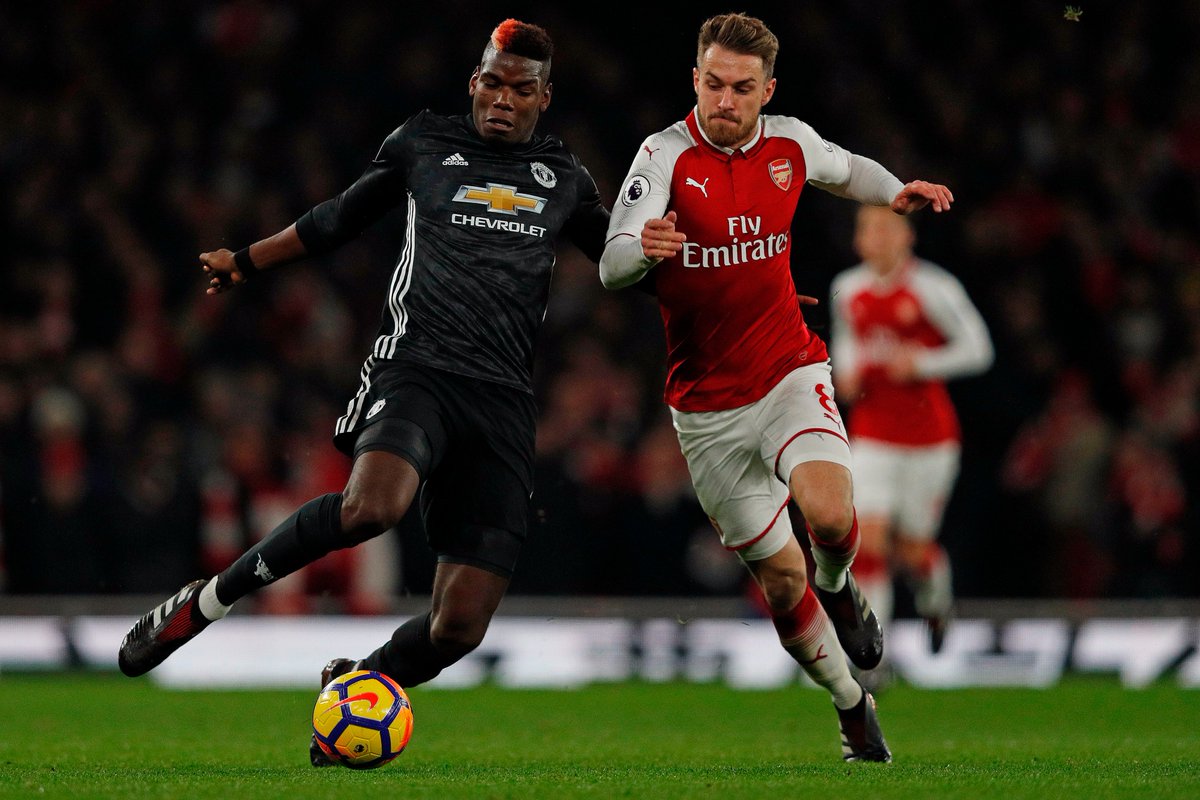 LWB) Sead Kolasinac – 7
He did well. Sead Kolasinac kept things tight at the back and did well moving forward. The former Schalke man was a solid option moving forward and put in some good crosses.
Sub: Olivier Giroud (76′) – N/A
Didn't do a great deal. Olivier Giroud just couldn't get the service.
RAM) Mesut Ozil – 8.5
He played well. Mesut Ozil controlled possession at times and put in some wonderful passes. His crossing could've been better but he created enough opportunities for Arsenal to win this match three times over.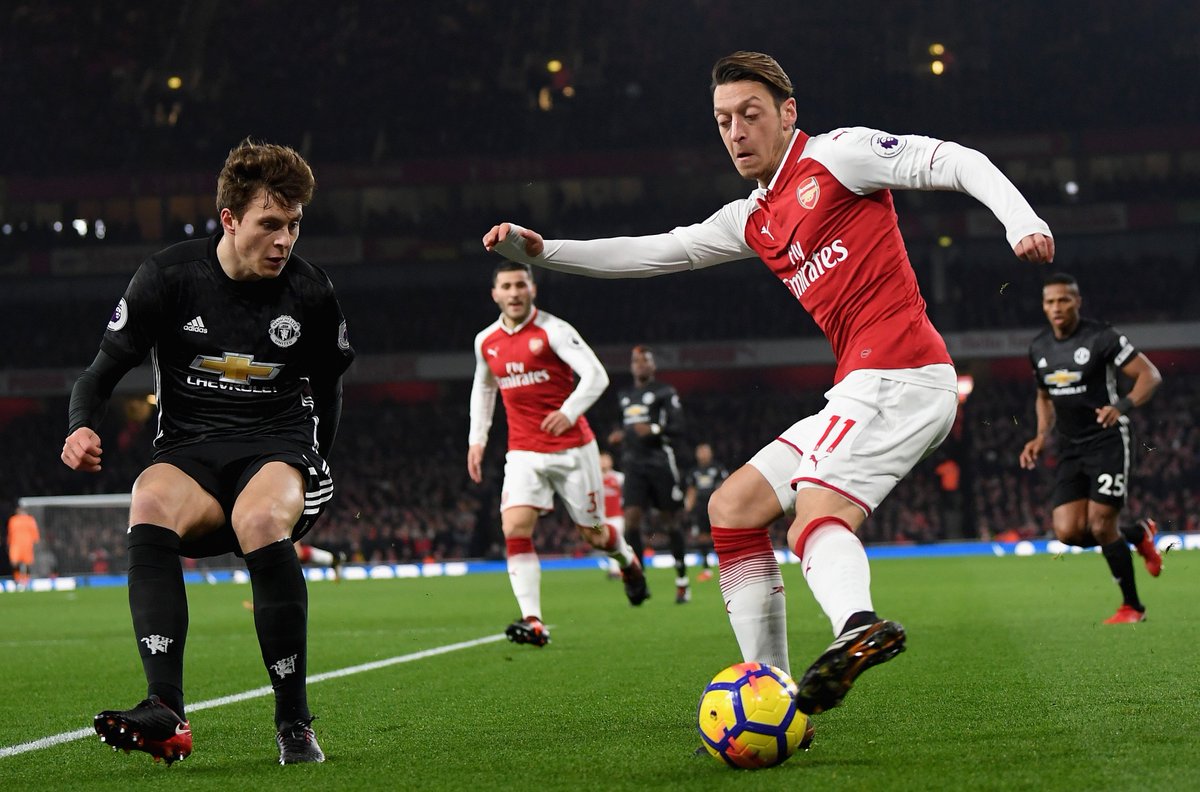 LAM) Alexis Sanchez – 5
He was ineffectual. Alexis Sanchez didn't really do much in the match either to set things up or to finish things off. The Chilean's passing was woeful and his finishing was poor.
ST) Alexandre Lacazette – 
Alexandre Lacazette did well. He grabbed his side's only goal and looked likeliest to score another. The Frenchman's finishing was generally very good and he would've bagged a hat trick but for David De Gea.
Facebook Comments