---
Your form couldn't be saved. Please try again later.
What now?
Check Your Email

Sign up and receive the activation email. Remember to check your spam folder.

Activate

Confirm your sign up by clicking "Activate My Email" button in the email you received.

Receive Offers

Sit back and relax. We'll take care of the rest. You will start receiving weekly exclusive offers!
Privacy Notice
The privacy of our subscribers ('you') matters to us. This Privacy Notice explains how and why your personal data is collected, used, consulted or otherwise processed when you decide to subscribe for the bonusninjas & OfferStation newsletter.
This Privacy Notice applies to your personal data processing on this website, and not to data processing that may occur on any other services or web sites. The owner of this website and the data controller of data processed is ('we', 'us', 'our') :
Better Collective A/S,
Tolbodgade 12,
1253 Copenhagen K (Hovedstaden)
Denmark (DK)
CVR. 27652913
Data we process
When you decide to subscribe for the Newsletter on this website, you are required to fill in the subscription form by typing your first name and email address.
Beside the above mentioned data that you reveal to us voluntarily, we are also aware of your prefered language, which depends on the website source the form originates from.
If you wish to find out more about the processing of other personal data concerning you that may occur when you browse our website, please read the website Privacy Policy.
Purpose of processing. Lawful basis
We use the information you give us to send you marketing emails that might be interesting to you.
We will only use your information for the stated purpose if you expressly consent to it. You can withdraw your consent at any time, which is explained in this Notice under the section about your rights.
How we protect your data
We only process data that we really need for the explained purpose. We are tending to keep your data up to date and to store them securely. We do not process your data for period longer than it is necessary for the purposes for which data is processed.
We use technical and organizational measures in accordance with good industry practice to secure your information.
Sharing and transferring of your data
Your data are shared with and transferred to the Oracle Corporation, which is the provider of the Eloqua marketing automation tool that we use to facilitate email marketing activities. The Oracle Corporation is certificated under the EU-U.S. Privacy Shield, which guarantees that adequate data protection standards are in place when your data are transferred.
Your rights
Since we are EU based company, processing of your data falls under the scope of the GDPR. Under the GDPR you are entitled to:
object to our use and processing of your personal data;
request access to your personal data;
request correction or deletion of your personal data;
request portability of your personal data and
request that we limit our use and processing of your personal data.
You may exercise your rights listed above by sending us an email to [email protected].
Don't Miss:
If you feel that your rights regarding data processing are violated, you have the right to lodge a complaint with your local data protection authority. Taking into account that we are Denmark based company, you may contact Danish Data Protection Agency as well: Datatilsynet, Borgergade 28, 5, DK-1300 Copenhagen K; email: [email protected]
Endnotes
This Privacy Notice is effective from 25th of May 2018 and may be modified from time-to-time.
If we make essential modifications to the Privacy Notice, you will be properly notified in advance, so that you can review changes before they become effective. Essential modifications might be necessary if we, for instance, we launch new services, deploy new technologies and process your data for new purposes.
Arsenal came back from a goal behind on two occasions to beat Aston Villa 3-2.
—–
Team News – Player Ratings – Match Highlights
Match: Arsenal v Aston Villa
Venue: Emirates Stadium
Kick-Off (UK Time): 16:30 22/09/2019
—–
It was an open start to the match for both sides. Both Arsenal and Aston Villa were keen to attack from the off with sine half-chances for both sides. Nicolas Pepe threatened down the Arsenal right but it was Pierre-Emerick Aubameyang who came closest to opening the scoring for the home side.
But soon the first goal did come for the visitors. Arsenal didn't close down the ball and a simple cross into the box evaded everyone but John McGinn who was left totally unmarked to score with ease.
Arsenal needed a response but it didn't come. The buildup was either slow and predictable or rushed and desperate. Arsenal never looked in control of the match and the situation almost got worse when Tyrone Mings had a brilliant opportunity to put his side 2-0 up.
Arsenal's task got a great deal tougher on the 41st minute when Ainsley Maitland-Niles was shown a second yellow card. Replays showed it was a little harsh but the end result was the same as the Gunners went into the break 1-0 down.
Arsenal started the second half very poorly. The visitors were threatening in very much the same way as they did in the first before Arsenal got the break they needed.
Matteo Guendouzi broke forward with the ball and strode into the box. The Frenchman cut onto his right side and was brought down in the area. The referee showed no hesitation in pointing to the spot and Nicolas Pepe stepped up to grab his first Arsenal goal.
It was the breakthrough Arsenal needed as the atmosphere at the Emirates was transformed. Arsenal pressed high but lost possession down the right flank. Villa broke through Jack Grealish and the Englishman strode down the left and cut it back for Wesley to restore Villa's lead within 90 seconds of the Arsenal equaliser.
The Gunners pressed forward in search of an equaliser. Unai Emery made his substitutions but Mesut Ozil remained on the bench. On the pitch, the home side had a number of decent opportunities which went untaken.
That changed with less than ten minutes left on the clock. Matteo Guendouzi whipped a ball into the box and Calum Chambers seized upon it to toe-poke it into the top corner.
There was only one side playing after the Arsenal equaliser. The Gunners pushed hard for the winning goal and it soon came. Pierre-Emerick Aubameyang was fouled on the edge of the area and the Gabon international stepped up to score the resulting free-kick. It was a fine strike from the forward.
Arsenal saw the game out after that to pick up the crucial win.
Here's how we rate the Arsenal players:
Bernd Leno – 5
He's been better. Bernd Leno perhaps could've done a little better with the second Villa goal in particular and didn't make any saves of note.
Ainsley Maitland-Niles – 2 (RED CARD 41′)
He wasn't playing well long before he got that red card. Ainsley Maitland-Niles was slow to get out and defend and offered very little moving forward. It was a really poor performance which culminated in that dismissal which really hurt the side.
David Luiz – 3
He was so poor. David Luiz put in another calamitous performance at the back and will attract much of the blame particularly for the second Villa goal.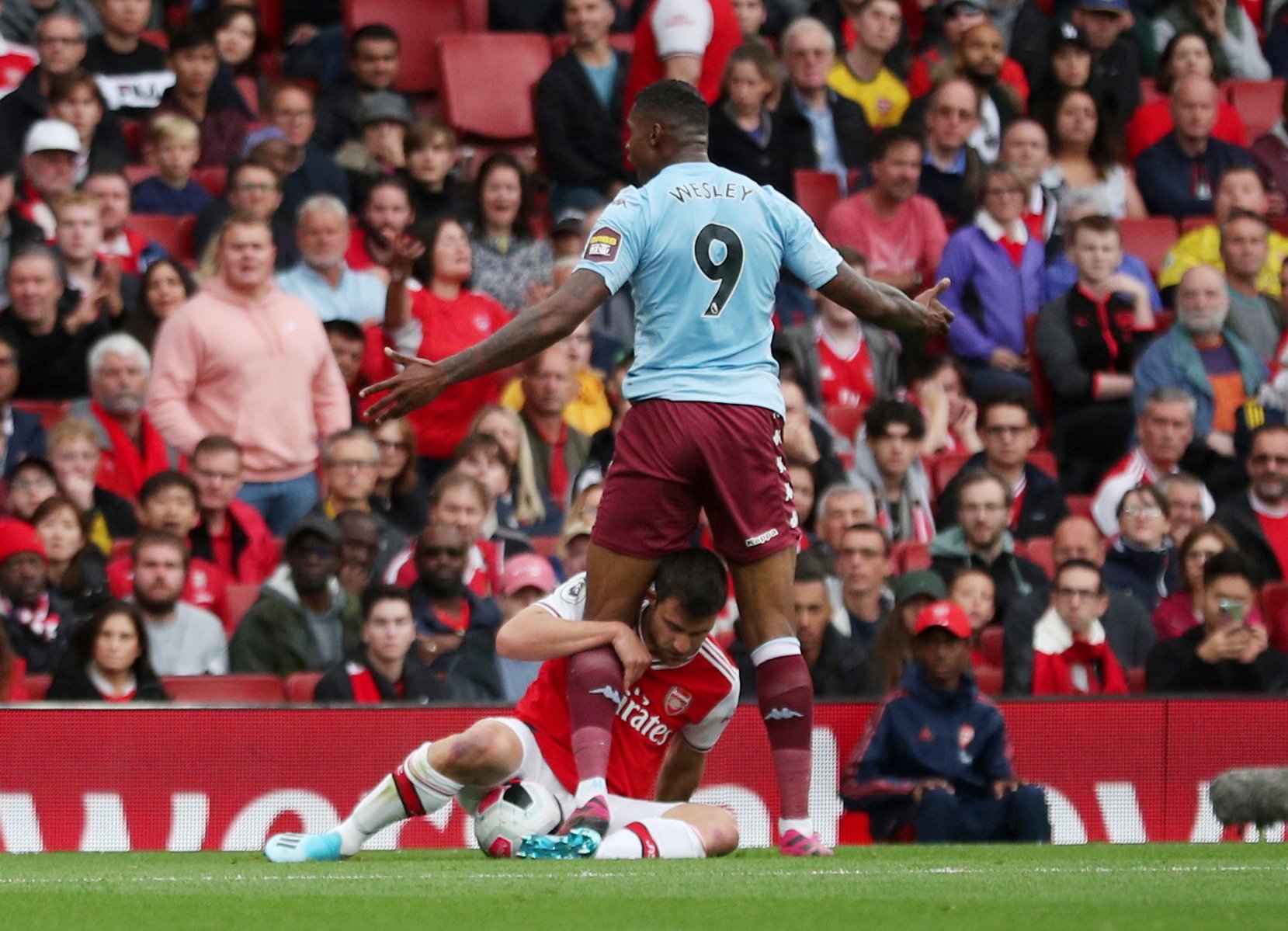 Sokratis Papastathopoulos – 4.5
He was better than his defensive partner but only just. Sokratis put in a poor performance with some woeful moments defensively.
Sead Kolasinac – 4
He was slow to close down defensively and wasteful in attack. Sead Kolasinac had a poor afternoon.
Granit Xhaka – 3
He did not play well. Granit Xhaka was non-existent in the midfield and honestly looked scared of receiving the ball. The Swiss midfielder pushed further forward and was anonymous. He was close to being sent off on a number of occasions and stayed on the pitch a lot longer than he had any right to.
Sub: Lucas Torreira (72′) – 5
He did pretty well after coming on.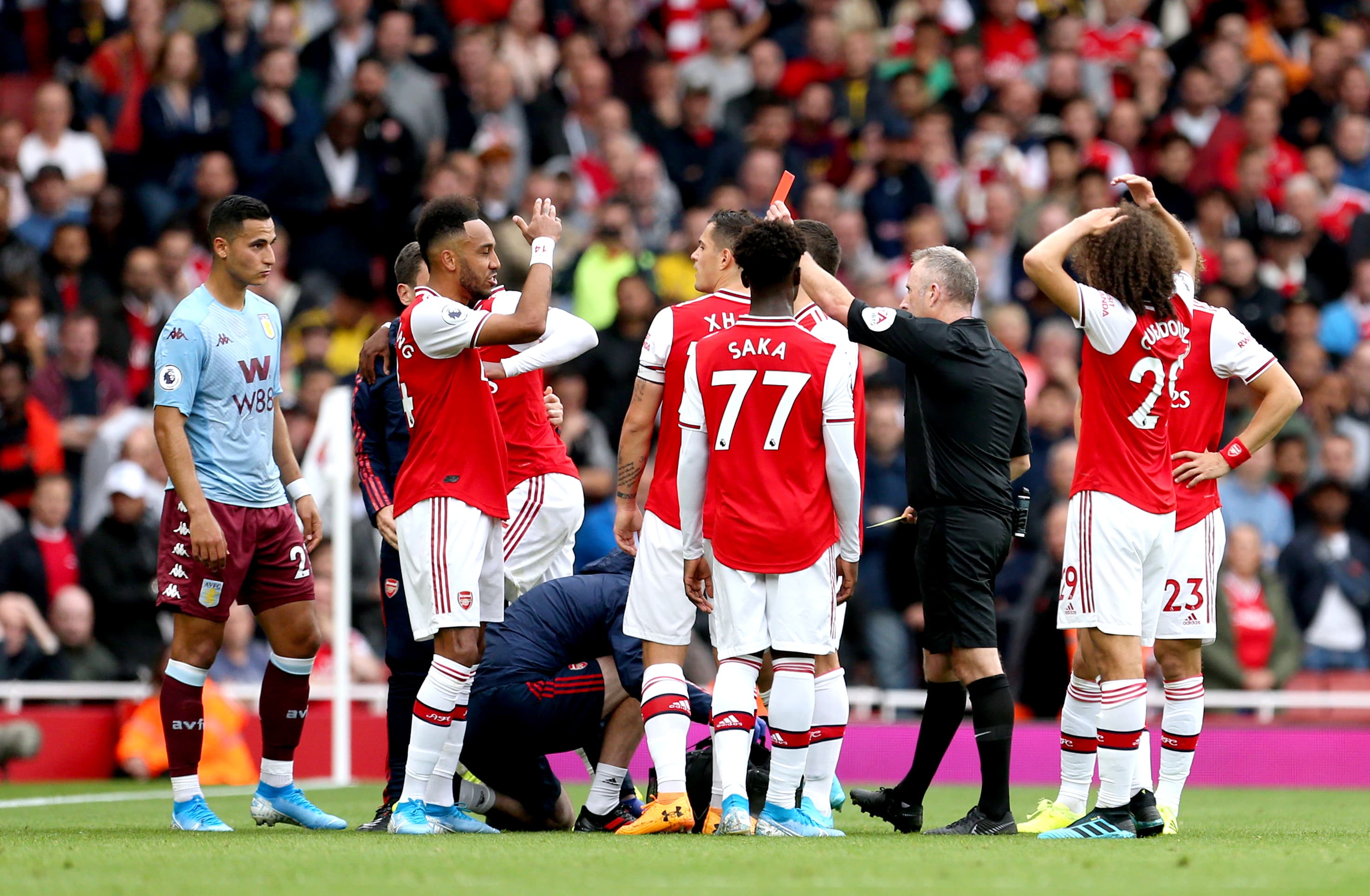 Matteo Guendouzi – 8
He was really poor in the first half so the rating reflects just how good he was after the break. Matteo Guendouzi was the biggest driving force in the Arsenal side after the break both in possession and without it. He won the penalty and chipped the ball in for Chambers' equaliser. A real standout performance.
Dani Ceballos – 5
He struggled at times this afternoon. Dani Ceballos couldn't find the ball in the right positions and failed to make an impact on the match.
Sub: Joe Willock (72′) -6
Joe Willock made an impact after coming off the bench.
Nicolas Pepe – 7
He was Arsenal's best player in the first half but did dip after the break. It was great to see Nicolas Pepe get his first Arsenal goal and he was a threat throughout. Let's hope he kicks on from this performance and improves.
Pierre-Emerick Aubameyang – 6
He was pretty poor for much of this match but again, Pierre-Emerick Aubameyang made the difference. his free-kick was a wonderful strike at a crucial moment.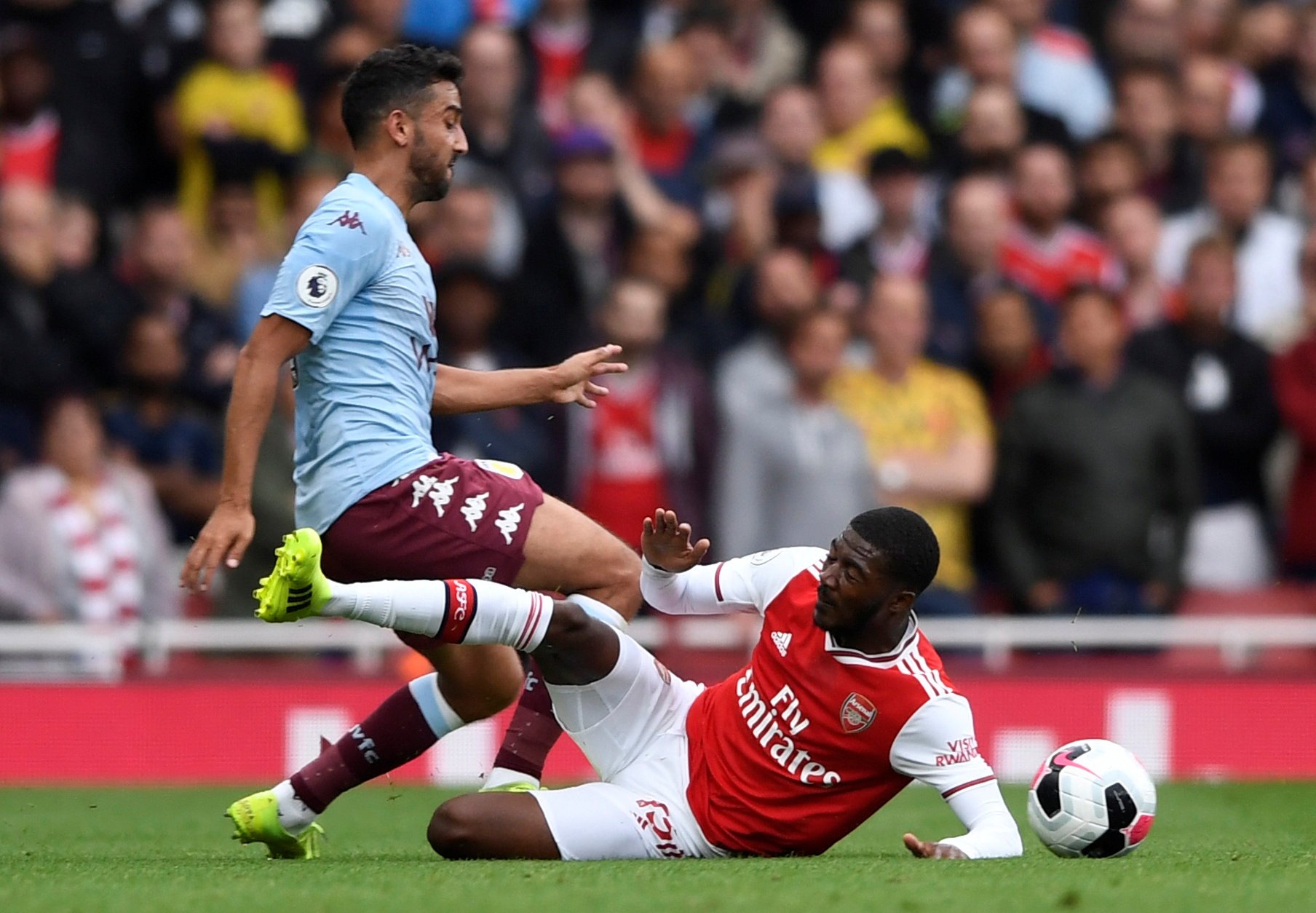 Bukayo Saka – 6
Bukayo Saka had his moments in the first half. He looked a little flat-footed at times and didn't play with the same level of confidence as he did in the previous match but was still one of Arsenal's best players in the opening 45.
Sub: Calum Chambers (45′) – 6
It was a bit of a mixed bag from Calum Chambers. He grabbed the all-important equalising goal but was at fault for Aston Villa's equaliser. Still, he represented a major improvement on Ainsley Maitland-Niles at right-back.
Unai Emery – 2
He made a number of wrong calls today. The first-half was embarrassingly dull and the second-half substitutions took far too long to come on.
Facebook Comments