---
Arsenal scored four times in the opening 22 minutes as they secured their first Premier League win of 2018 against Crystal Palace.
—–
Matchday: Team News – Player Ratings – Match Highlights
Match: Arsenal v Crystal Palace
Stadium: Emirates Stadium
Kick-Off (GMT): Sat 20 Jan 15:00
—–
There were always going to be a lot of eyes on this match at the Emirates. On what will presumably be the first match of the post-Alexis Sanchez era at the Emirates got off to a fine start. A simple corner to the backpost and the returning Nacho Monreal had lost his marker to make it 1-0 inside six minutes.
Arsenal lined up with a new-look 4-3-3 formation and the attacking trio flourished. The likes of Mesut Ozil and Alex Iwobi were handed acres of space in front of the Palace backline and it was Iwobi who was on-hand to receive a Nacho Monreal cutback to make it 2-0.
Just minutes later and another corner was swung in from the right-hand side for Nacho Monreal at the backpost. The Spaniard cut it back for Laurent Koscielny to score and make it 3-0 inside 14 minutes.
Don't Miss:
The Palace players were visibly shocked by that opening 15 minutes but it wasn't over yet. A wonderful passing move resulted in Mesut Ozil in space on the edge of the box. The German played a wonderful backheel to Alexandre Lacazette who took a touch before ending his goalless run.
The game got sloppy for the remainder of the first-half. Nacho Monreal went off the field with a slight injury problem which put a dampener on the afternoon for Arsenal.
The second-half continued very much as the first ended. Palace grew into the match and created more than a few opportunities. Christian Benteke and Wilfried Zaha were amongst the players who could not get the ball past Petr Cech in the Arsenal goal.
Palace added a consolation goal late on when Luka Milivojevic hooked the ball in from a corner but by then, the points were safe for Arsenal.
Here's how we rate the players:
GK) Petr Cech – 7.5
Petr Cech played well. While his distribution was noticeably poor, the Czech stopper made a number of important saves.
RB) Hector Bellerin – 6.5
He was fine. Hector Bellerin put in a decent performance at right-back but didn't have a great deal of defending to do.
CB) Shkodran Mustafi – 7
Shkodran Mustafi played well. The centre-backs played very aggressive defensively, especially in the first-half and were quick to intercept the play.
CB) Laurent Koscielny – 7
Laurent Koscielny grabbed his first goal of the season to cap a solid performance. He started the match well but errors started to creep into his game as time went on.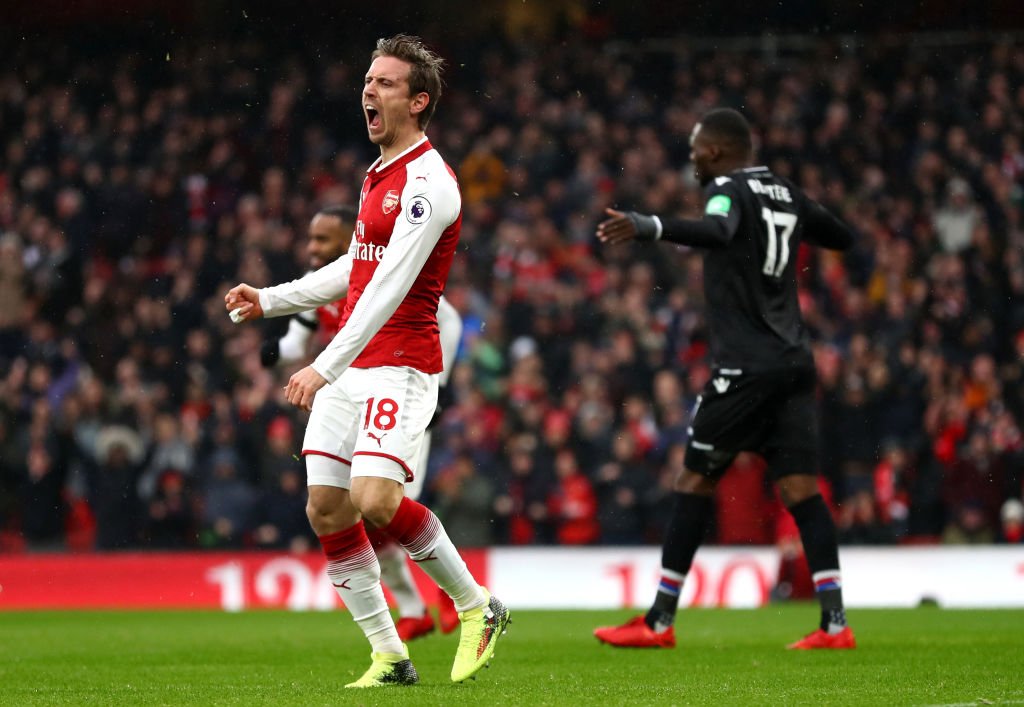 LB) Nacho Monreal – 9.5
What a ridiculous 30-minute spell for Nacho Monreal. The Spaniard has missed the last six matches and certainly made up for lost time with a goal and two assists in the opening thirteen minutes of the match. It was a shame to see him replaced and, hopefully, he isn't too badly injured.
Sub: Ainsley Maitland-Niles (34′) – 6
He was fine. It was far from the toughest match for Ainsley Maitland-Niles to step into but he was okay.
CM) Granit Xhaka – 7
Granit Xhaka played well. The Swiss midfielder operated more offensively than many expected and did a good job in the centre of the park.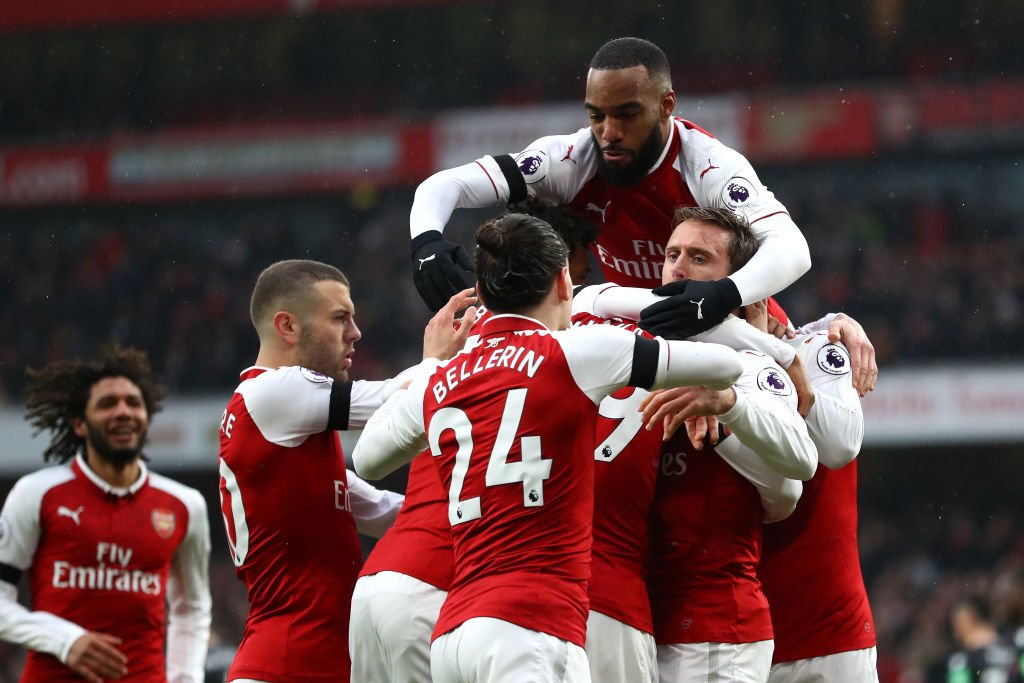 CM) Mohamed Elneny – 7
With Granit Xhaka and Jack Wilshere playing further forward, Mohamed Elneny had to pick up the slack defensively. He did well on that front but his passing was overly cautious.
RAM) Alex Iwobi – 8.5
He's attracted a lot of criticism from Arsenal fans lately but Alex Iwobi played very well this afternoon. Much of the good work done by Arsenal in the first 30 minutes came through Iwobi has he capped an impressive afternoon with a goal.
Sub: Sead Kolasinac (83′) – 
CAM) Jack Wilshere – 8.5
Jack Wilshere was hugely impressive in the central attacking midfield role. He linked up well with Mesut Ozil and took excellent care of possession in important areas.
LAM) Mesut Ozil – 8.5
Mesut Ozil's first game back after injury was a huge success as the German star put in a fine performance. He was at the centre of much of what was good for Arsenal today.
Sub: Reiss Nelson (72′) –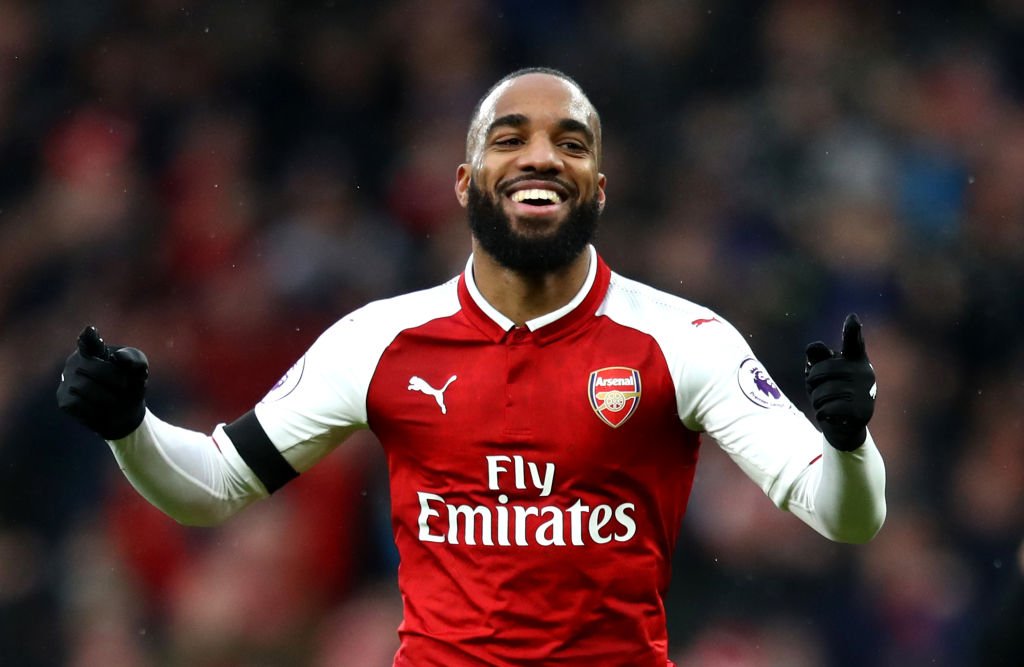 ST) Alexandre Lacazette – 7.5
As Arsenal hammered in a couple of goals early on in the match, Alexandre Lacazette must have realised that he had a good opportunity to end his goal drought. Fortunately, the Frenchman recovered to find the back of the net and cap a decent performance.
Facebook Comments