---
Arsenal secured a thumping 5-0 win over Huddersfield thanks largely to a second-half masterclass from Mesut Ozil.
—–
Matchday: Team News – Player Ratings – Match Highlights
Match: Arsenal v Huddersfield
Stadium: Emirates Stadium
Kick-Off (GMT): Wed 29 Nov 19:45
—–
Many were expecting some squad rotation from Arsene Wenger in this match with Manchester United on Saturday. There was just the one change to the starting lineup and the Gunners' star men wasted little time in making an impression.
Granit Xhaka picked up the ball in midfield and slotted it into Aaron Ramsey in space. The Welshman flicked it first time into the path of Alexandre Lacazette clean in on goal who calmly found the back of the net.
The Gunners came close to doubling their lead midway through the first-half. A wonderful flowing move ended with Lacazette attempting a Kanu-against-Chelsea-style lob over the  onrushing goalkeeper. His chip was cleared off the line and Sead Kolasinac failed to convert the rebound.
Don't Miss:
Arsenal seemed to ease off as the half progressed. Their play was slow and sloppy and the visitors came back into it. Real opportunities were sparse but the danger was clear for any Gunners fan to see.
The Gunners started the second-half as they finished the first with some sloppy buildup play but eventually found their form. Mesut Ozil was incredible on the night and finished Huddersfield off with two quickfire assists.
The first came after a one-two with Alexis Sanchez. The German reached the byline and cut it back for Olivier Giroud to sweep in as he so often does.
Fewer than two minutes later and it was Ramsey's turn to play Ozil in. The German cut it back for Alexis Sanchez to get in on the act, converting a difficult pass incredibly well on the half-volley. Mesut Ozil wasn't finished. He completed his demolition of Huddersfield with a goal of his own, delicately chipping the ball over the goalkeeper.
The Gunners added a fifth late on courtesy of substitute Olivier Giroud to cap a fine evening for Arsene Wenger and Arsenal.
Here's how we rate the Arsenal players:
GK) Petr Cech – 7
Petr Cech did okay. The former Chelsea man didn't have a great deal to do for most of the match but made a couple of big stops when the game was hanging in the balance.
RCB) Laurent Koscielny – 6
He was okay. Laurent Koscielny kept the opposition quiet enough but wasn't really tested.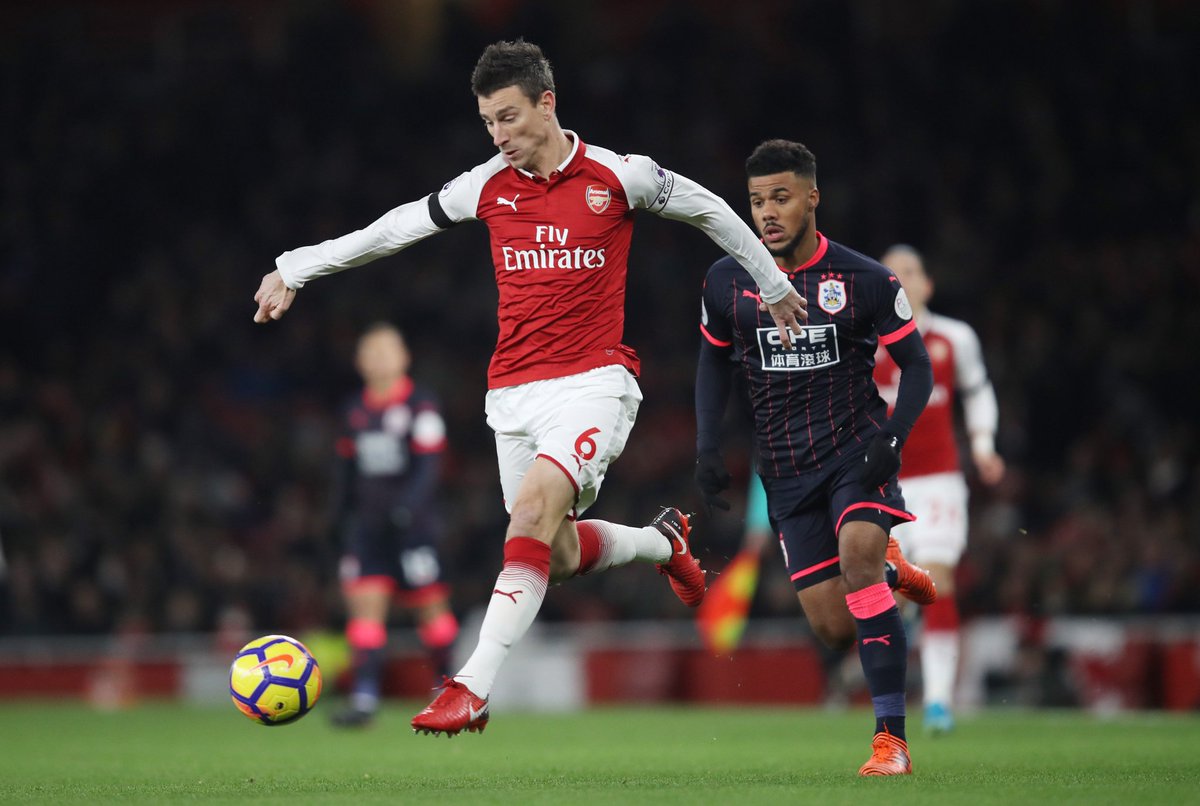 CB) Shkodran Mustafi – 6
Shkodran Mustafi made a couple of mistakes early on but improved as the game progressed.
LCB) Nacho Monreal – 6
Nacho Monreal was the best of the defensive three but again, was hardly tested.
RWB) Hector Bellerin – 6
He was okay. Hector Bellerin was kept pretty quiet with much of Arsenal's buildup play either coming through the middle or the left flank.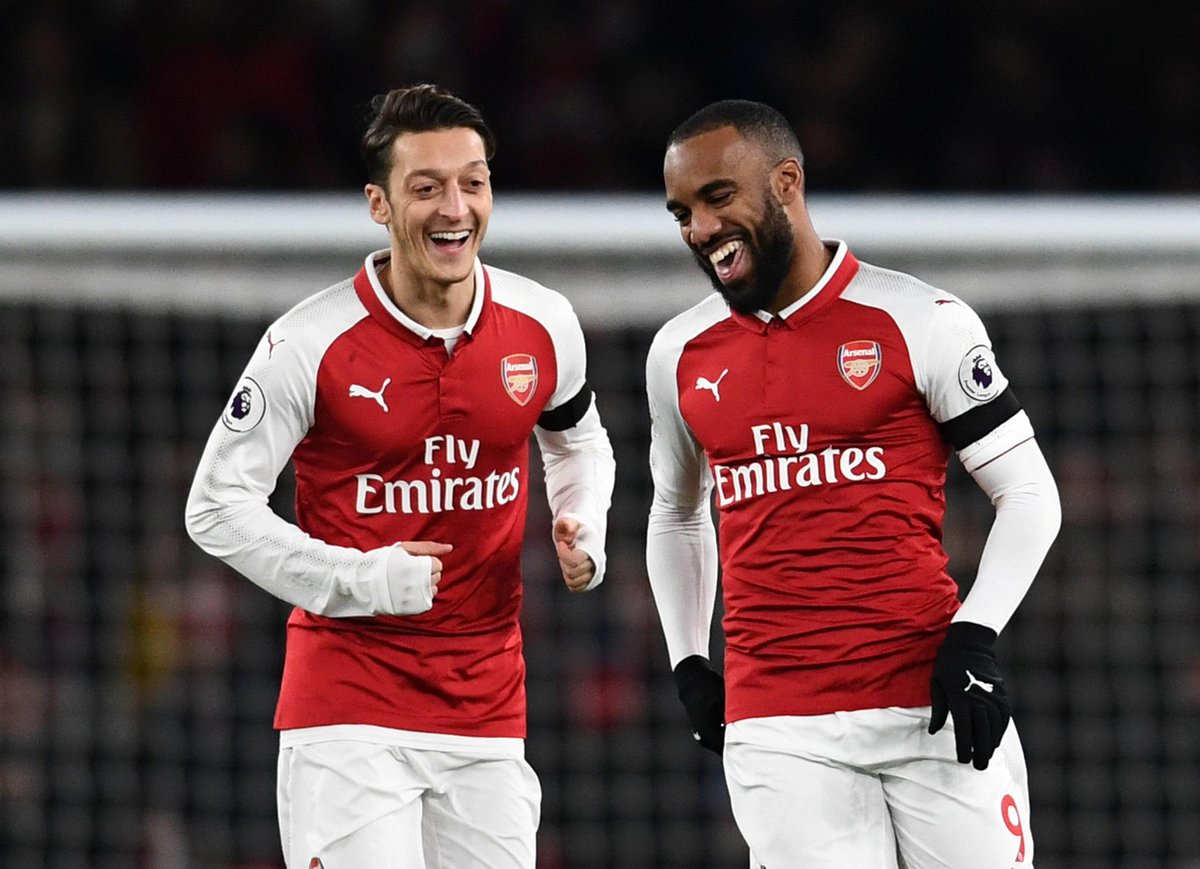 CM) Granit Xhaka – 4.5
He was poor. Granit Xhaka just couldn't get going in the middle of the park and became more and more careless as the game went on. His passing was poor and his shooting was erratic.
CM) Aaron Ramsey – 7.5
Aaron Ramsey played well. He was one of the biggest threats in the Arsenal team moving forward, particularly in the first-half. The Welshman's flick for the opening goal was wonderful and he played a heavy role in a couple of the others. Good stuff.
Sub: Jack Wilshere (75′) – N/A
Some nice touches but Jack Wilshere didn't have enough time to make an impression.
LWB) Sead Kolasinac – 7
A big improvement. Sead Kolasinac was frustrating on the weekend but put in an impressive performance this evening. The full-back was heavily involved in the Gunners' buildup and even improved his final product as the game progressed.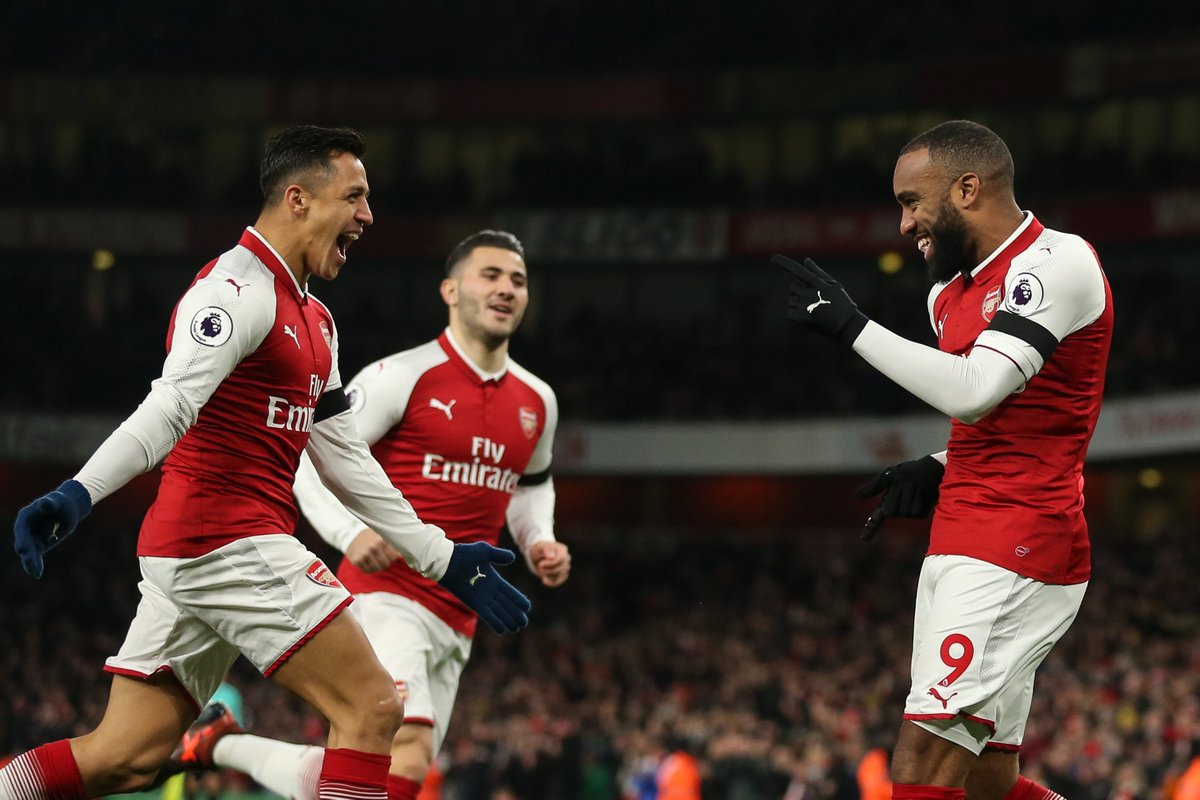 RAM) Mesut Ozil – 9.5
A wonderful performance from Mesut Ozil. Few expected him to start but he showed all of his qualities this evening. The German was playing well before that ridiculous ten-minute spell in the second-half where he grabbed two assists and a goal but that is how we will remember this match. Mesut Ozil is mesmerising to watch when he's on form and he certainly was tonight.
LAM) Alexis Sanchez – 4.5
He grabbed a goal but Alexis Sanchez was woeful for large spells of this match. Nothing was working for the Chilean but just like at the weekend, he grabbed a goal despite a poor performance.
Sub: Danny Welbeck (75′) – N/A
Quiet cameo but Danny Welbeck just needs his fitness back.
ST) Alexandre Lacazette – 6.5
He did well. It was surprising to see Alexandre Lacazette subbed off at half-time considering the Frenchman's performance. Let's hope it was a tactical decision and nothing injury-related.
Sub: Olivier Giroud (46′) – 7.5
A good cameo from Olivier Giroud. The Frenchman had 45 minutes to make an impression and he certainly used them to his advantage. Two goals and the gauntlet has well and truly been thrown down by Olivier Giroud.
Facebook Comments