---
Your form was saved!
Your form couldn't be saved. Please try again later.
Privacy Notice
The privacy of our subscribers ('you') matters to us. This Privacy Notice explains how and why your personal data is collected, used, consulted or otherwise processed when you decide to subscribe for the Newsletter.
The sender of the Newsletter and the owner of this website is ('we', 'us', 'our') :
Better Collective A/S,
Tolbodgade 12,
1253 Copenhagen K (Hovedstaden)
Denmark (DK)
CVR. 27652913
Data we process
When you decide to subscribe for the Newsletter on this website, you are required to fill in the subscription form by typing your first name and email address.
In addition to the above mentioned data, we are also aware of your prefered language, according to the website source the form originates from.
If you wish to find out more about the processing of other personal data concerning you that may occur when you browse our website, please read the website's Privacy Policy.
Purpose of processing
We use the information you give us to send you marketing emails that might be interesting to you.
We will only use your information for the stated purpose if you expressly consent to it. You can withdraw your consent at any time, which is explained in this Notice under the section about your rights.
How we protect your data
We only process data that we really need for the explained purpose. We keep your data up to date and to store them securely.
We do not process your data for longer than it is necessary for the purposes for which data is processed. If you decide to unsubscribe, your data related to the subscription will be deleted from our systems.
Don't Miss:
We use technical and organizational measures in accordance with the good industry practice to secure your information. Only properly authorised staff, bound by contractual confidentiality provisions, can access your data in order to provide you the best possible experience.
Sharing and transferring of your data
Your data are shared with and transferred to the Oracle Corporation, which is the provider of the Eloqua marketing automation tool that we use to facilitate email marketing activities. The Oracle Corporation is certificated under the EU-U.S. Privacy Shield, which guarantees that adequate data protection standards are in place when your data are transferred.
Your rights
Since we are an EU-based company, the processing of your data falls under the scope of the Regulation (EU) 2016/679 (General Data Protection Regulation - 'GDPR'). Under the GDPR you are entitled to:
request access to your personal data;
request correction or deletion of your personal data;
request portability of your personal data;
request that we limit our use and processing of your personal data;
withdraw your consent to receiving a Newsletter, by clicking the unsubscribe link at the end of every email we send you;
lodge a complaint with your local data protection authority or Danish Data Protection Agency if you consider that the processing of your personal data explained above infringes the GDPR.
If you have any questions or doubts regarding the processing of your personal data explained in this Notice, or you wish to exercise your rights listed above, you may send us an email at dataprotection@bettercollective.com.
Endnotes
This Privacy Notice is effective from 25th of May 2018 and may be modified from time-to-time.
If we make essential modifications to the Privacy Notice, you will be properly notified in advance, so that you can review changes before they become effective. Essential modifications might be necessary if, for instance, we launch new services, deploy new technologies and process your data for new purposes.
Arsenal were defeated 1-0 by BATE Borisov on a woeful night in Belarus.
—–
Team News – Player Ratings – Match Highlights
Match: BATE Borisov v Arsenal
Stadium: Borisov Arena
Kick-Off (UK Time): 17:55 14/02/2019
—–
The match kicked off on a pitch which was worlds away from the surface at the Emirates Stadium. It must have been alien for some of the Arsenal players but they didn't show it early on as they fashioned a good opportunity in the opening 90 seconds when Henrikh Mkhitaryan came close.
The Armenian started brightly, as did Sead Kolasinac down the left flank. The Bosnian helped create the Gunners' next big chance when Alexandre Lacazette headed over at the back post.
Arsenal continued to create chances throughout the first half but their buildup play was slow in a disappointing 45 minutes. That culminated minutes before the break when the Gunners failed to clear a simple free-kick from the home side and BATE Borisov took the lead through Stanislaw Drahun.
The second half began very much as the first ended. Arsenal saw a lot of the ball but lacked the creativity to make anything of it. One of the few clear cut chances for the Gunners saw Alexandre Lacazette find the back of the net. Unfortunately, the Frenchman was rightly ruled offside.
Arsenal's night went from bad to worse late on when Alexandre Lacazette was shown a straight red card. Replays showed that the Frenchman had caught an opponent with a flailing elbow and was rightly sent off to cap a woeful evening for the Gunners.
Here's how we rate the Arsenal players:
Petr Cech – 6
He was okay. Petr Cech made every save he was expected to – if a little unconvincingly at times – and took good care of the football.
Shkodran Mustafi – 6.5
He was fine. Shkodran Mustafi did switch off a couple of times but he kept control of the ball well.
Laurent Koscielny – 7
Laurent Koscielny put in another good performance in the centre of defence. The Frenchman was excellent in possession and defended well barring a few mistakes.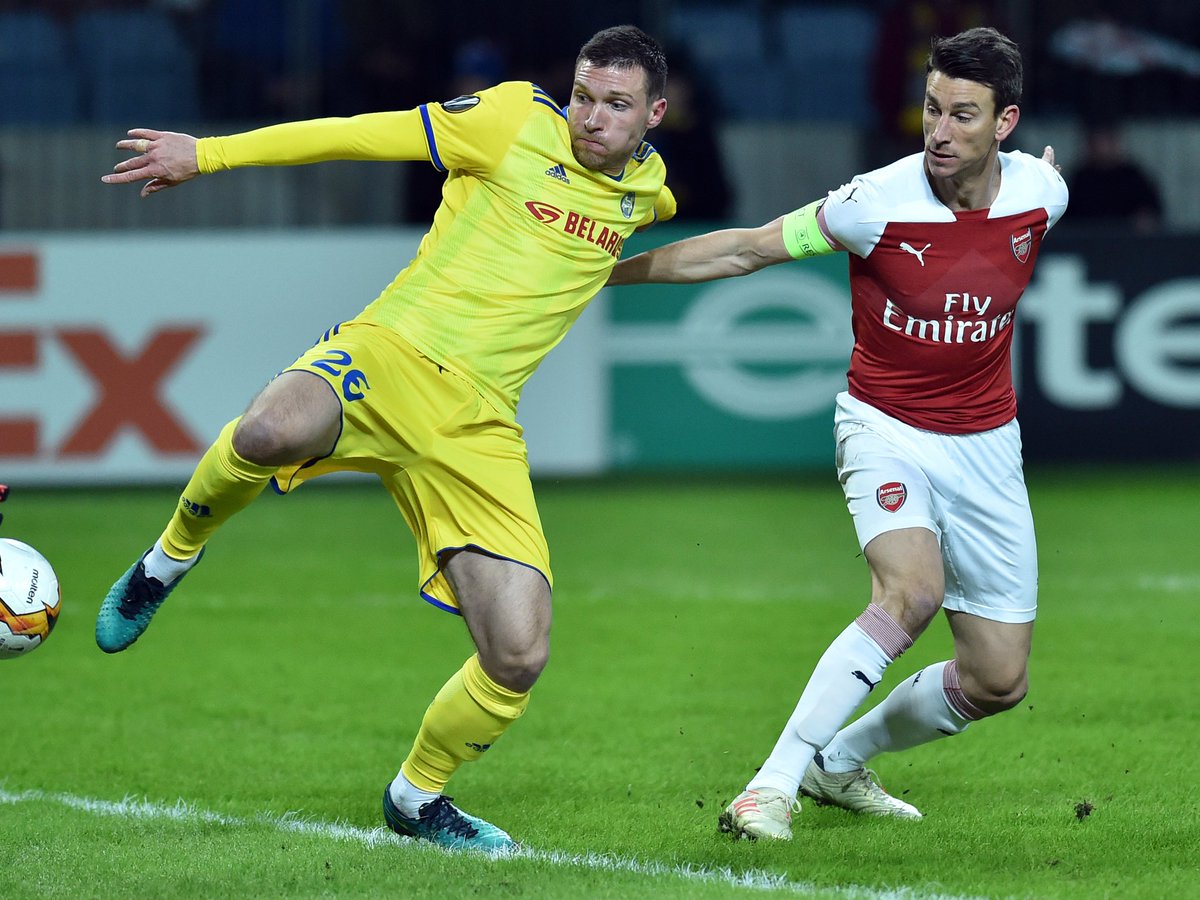 Nacho Monreal – 6.5
Nacho Monreal did well enough in the centre of defence. The Spaniard moved the ball relatively well and covered the space down Arsenal's flank.
Ainsley Maitland-Niles – 5
He's played better. Ainsley Maitland-Niles's defensive issues were on show again during this match but unfortunately, his influence moving forward was minimal. The Englishman lost the ball far too often.
Sub: Pierre-Emerick Aubameyang (68′) – 4.5
Did he even touch the ball? Pierre-Emerick Aubamemyang had 25 minutes to help his side but he did very little.
Matteo Guendouzi – 5.5
Matteo Guendouzi just looked tired tonight. The Frenchman was sloppy with the ball and hardly defended with his usual levels of energy and determination.
Granit Xhaka – 5
It was a disappointing return to the starting lineup for Granit Xhaka tonight. The Swiss midfielder looked slow without the ball and sloppy with it. His set-piece delivery was noticeably poor.
Sub: Lucas Torreira (68′) – 5.5
Lucas Torreira didn't do a great deal to improve his side but played well enough.
Sead Kolasinac – 7
He played well. Sead Kolasinac was Arsenal's best player on the night and a constant threat down the left flank. Unai Emery must be aware of his defensive shortcomings because Kolasinac did not have to do much tracking back.
Sub: Denis Suarez (74′) – 4
He was woeful this evening. Denis Suarez couldn't seem to get the ball under control on this bumpy pitch.
Alex Iwobi – 5
He was poor. Alex Iwobi just couldn't get the ball under control this evening and barely threatened moving forward.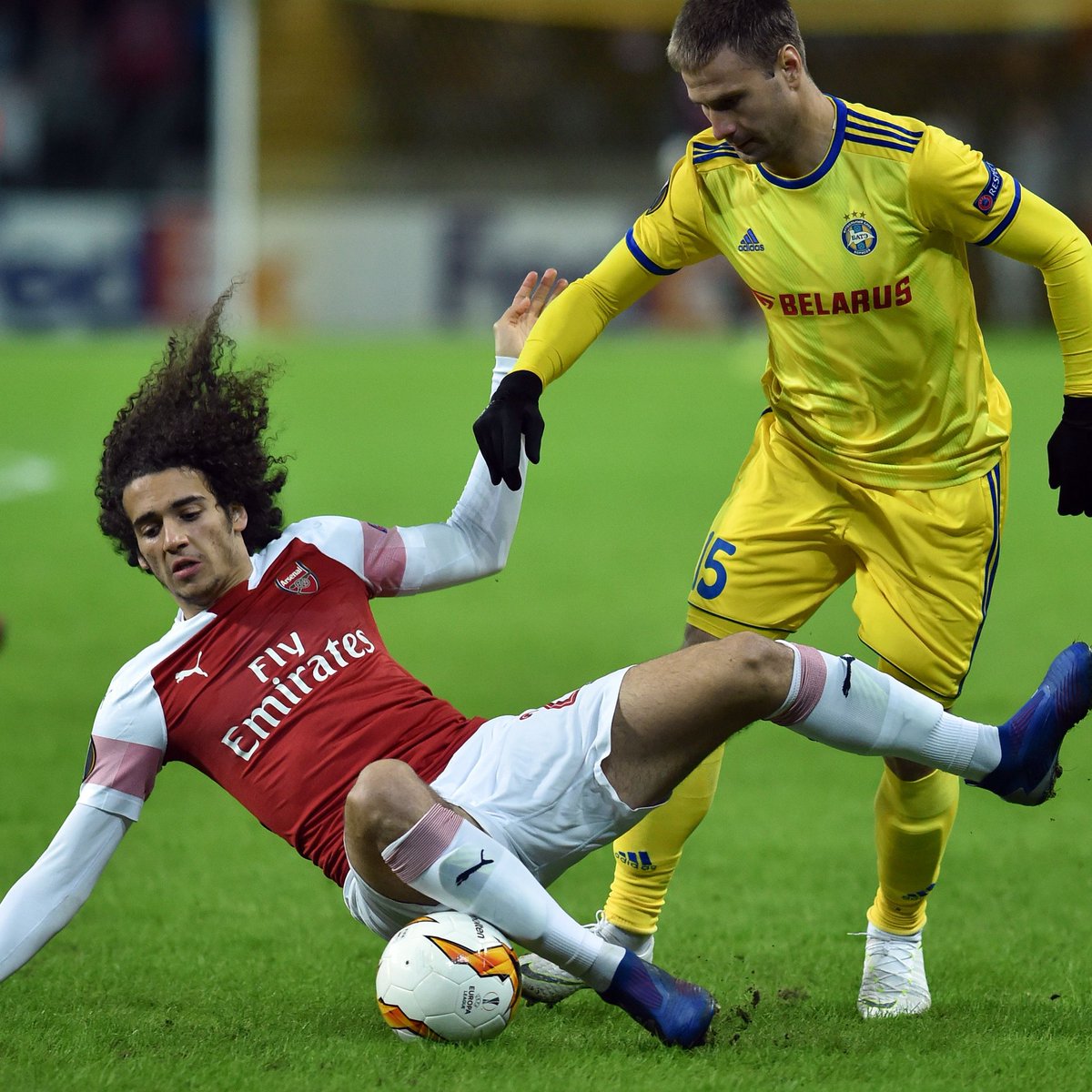 Henrikh Mkhitaryan – 5
He actually started the match well. Henrikh Mkhitaryan was Arsenal's best player in the opening 15 minutes but drifted off as the match progressed.
Alexandre Lacazette – 3
Alexandre Lacazette wasn't the worst performing player for Arsenal but his night will be remembered for that red card. The decision was certainly justified and the Gunners will have to deal without Lacazette for the next few matches.
Facebook Comments