---
Your form couldn't be saved. Please try again later.
What now?
Check Your Email

Sign up and receive the activation email. Remember to check your spam folder.

Activate

Confirm your sign up by clicking "Activate My Email" button in the email you received.

Receive Offers

Sit back and relax. We'll take care of the rest. You will start receiving weekly exclusive offers!
Privacy Notice
The privacy of our subscribers ('you') matters to us. This Privacy Notice explains how and why your personal data is collected, used, consulted or otherwise processed when you decide to subscribe for the bonusninjas & OfferStation newsletter.
This Privacy Notice applies to your personal data processing on this website, and not to data processing that may occur on any other services or web sites. The owner of this website and the data controller of data processed is ('we', 'us', 'our') :
Better Collective A/S,
Tolbodgade 12,
1253 Copenhagen K (Hovedstaden)
Denmark (DK)
CVR. 27652913
Data we process
When you decide to subscribe for the Newsletter on this website, you are required to fill in the subscription form by typing your first name and email address.
Beside the above mentioned data that you reveal to us voluntarily, we are also aware of your prefered language, which depends on the website source the form originates from.
If you wish to find out more about the processing of other personal data concerning you that may occur when you browse our website, please read the website Privacy Policy.
Purpose of processing. Lawful basis
We use the information you give us to send you marketing emails that might be interesting to you.
We will only use your information for the stated purpose if you expressly consent to it. You can withdraw your consent at any time, which is explained in this Notice under the section about your rights.
How we protect your data
We only process data that we really need for the explained purpose. We are tending to keep your data up to date and to store them securely. We do not process your data for period longer than it is necessary for the purposes for which data is processed.
We use technical and organizational measures in accordance with good industry practice to secure your information.
Sharing and transferring of your data
Your data are shared with and transferred to the Oracle Corporation, which is the provider of the Eloqua marketing automation tool that we use to facilitate email marketing activities. The Oracle Corporation is certificated under the EU-U.S. Privacy Shield, which guarantees that adequate data protection standards are in place when your data are transferred.
Your rights
Since we are EU based company, processing of your data falls under the scope of the GDPR. Under the GDPR you are entitled to:
object to our use and processing of your personal data;
request access to your personal data;
request correction or deletion of your personal data;
request portability of your personal data and
request that we limit our use and processing of your personal data.
You may exercise your rights listed above by sending us an email to [email protected].
Don't Miss:
If you feel that your rights regarding data processing are violated, you have the right to lodge a complaint with your local data protection authority. Taking into account that we are Denmark based company, you may contact Danish Data Protection Agency as well: Datatilsynet, Borgergade 28, 5, DK-1300 Copenhagen K; email: [email protected]
Endnotes
This Privacy Notice is effective from 25th of May 2018 and may be modified from time-to-time.
If we make essential modifications to the Privacy Notice, you will be properly notified in advance, so that you can review changes before they become effective. Essential modifications might be necessary if we, for instance, we launch new services, deploy new technologies and process your data for new purposes.
Arsenal started well in the Camp Nou. The Gunners pressed high and took the game to FC Barcelona, nipping into tackles in good areas. Pierre-Emerick Aubameyang had the first shot of the game and was unfortunate not to really test the Spanish side's new goalkeeper.
But Barca grew into it. The home side had a few new signings to showcase with Frenkie De Jong and Antoine Griezmann impressing in the opening 20 minutes.
It was the full-backs who impressed for both sides. Nelson Semedo broke clear down Barcelona's left before Ainsley Maitland-Niles had some standout moments for the Gunners. Jordi Alba forced a comfortable stop from Bernd Leno when he created space in the Arsenal box.
That good start was solidified when Arsenal took the lead on the 35-minute mark. The Gunners did well to play the ball out of defence and get Mesut Ozil on the ball in a good area. The German threaded a pass into the feet of Pierre-Emerick Aubameyang with his back to goal on the edge of the box.
With one shrewd touch, the Gabonese forward had swivelled, lost his maker in Alba, and created the space to whip the ball into the top corner. A well-worked goal brilliantly finished by Ozil and Aubameyang.
The home side made a host of changes at halftime and Barcelona benefitted. The Gunners could barely get out of their own half in the opening 15 minutes of the second period. Bernd Leno was forced into a couple of saves before Joe Willock produced an excellent goal-saving clearance of his own.
The Gunners looked to have ridden out the worst of Barcelona's dominance but the unthinkable happened. Maitland-Niles cleared up a seemingly innocuous Barcelona attack and played it back to Leno. Unfortunately, the German goalkeeper was well out of his goal to collect the ball which rolled painfully into the back of the net.
It was a blow but Arsenal recovered. A couple of subs came on for the Gunners un attack and impressed from the off. Bukayo Saka almost laid one on a plate for Aubameyang before he actually did set up a fine chance for Gabriel Martinelli. Unfortunately, the Brazilian's acrobatic volley was the wrong side of the post.
Unfortunately, it wasn't to be. Shkodran Mustafi replaced Sokratis in the centre of defence and didn't match the speed of the match. He lost his marker and Luis Suarez took full advantage of the situation to bag a late winner.
Here's how we rate the Arsenal players:
Bernd Leno – 7
Bernd Leno can be pleased with his evening. The German was a part of that woeful own goal but produced a couple of solid saves.
Ainsley Maitland-Niles – 6
His night will be remembered for the woeful own goal but it needn't be. Ainsley Maitland-Niles had some good moments this evening, particularly in the first half.
Calum Chambers – 6
He was a little shakier than his defensive partner. Calum Chambers' biggest downfall this evening was with the ball at his feet. He was just a little too slow to move things along and got caught out. Still, the Englishman defended well enough for much of the match.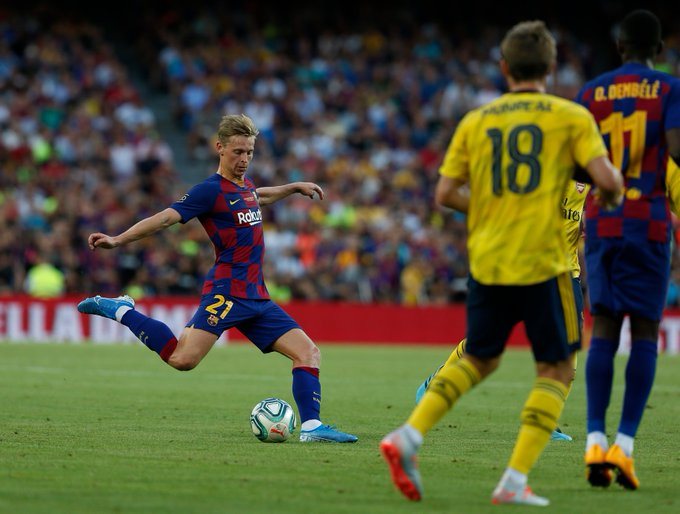 Sokratis Papastathopoulos – 7.5
He did well. Sokratis was assured in defence for the vast majority of the match.
Sub: Shkodran Mustafi (85′) – 3
Such a disappointing cameo. Shkodran Mustafi just needed to keep things simple at the back but afforded Luis Suarez five yards of space from a simple ball over the top.
Nacho Monreal – 6
He did well enough. Nacho Monreal looked good in the FC Barcelona half but was caught out defensively a couple of times. The Barca right-back Nelson Semedo skipped past Monreal on a few too many occasions.
Sub: Sead Kolasinac (45′) – 6.5
He did well in the second half. Sead Kolasinac defended well enough and moved well down the left flank.
Joe Willock – 8.5
A standout performance from the youngster. Joe Willock put in a fine all-around performance with some creative moments with the ball and great defensive work without it. The 19-year-old produced two excellent goal-saving tackles, one in either half to help his side.
Sub: Dani Ceballos (71′) – 6
Some bright moments from Dani Ceballos. The Spaniard looked good in possession but the Gunners just didn't have enough of it in the last 20 minutes.
Granit Xhaka – 6
A bit of a mixed bag from him. Granit Xhaka was a little careless in possession at times during the first half but did improve after the break.
Sub: Lucas Torreira (85′) – N/A
Didn't see much of the ball.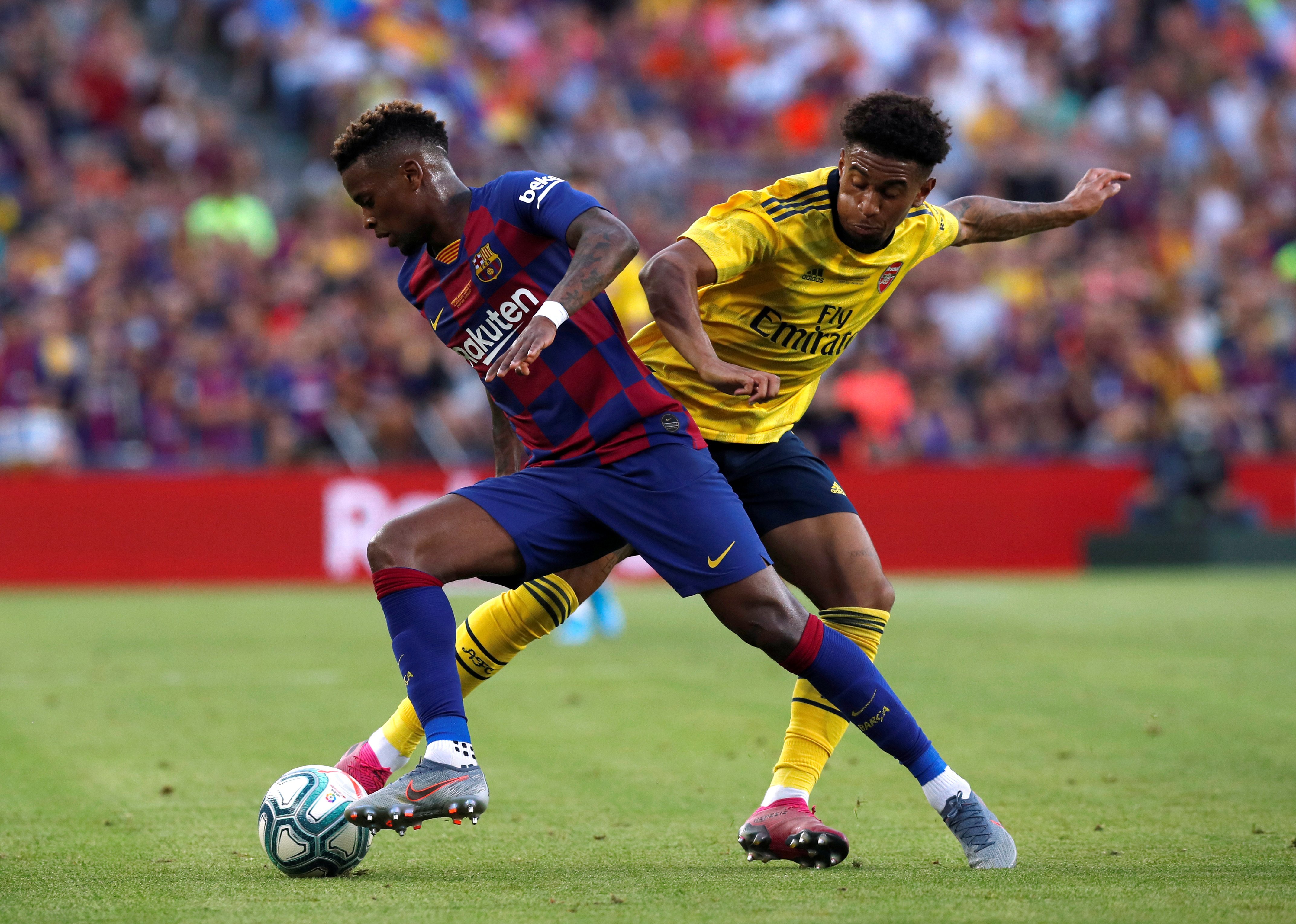 Henrikh Mkhitaryan – 7
He did well. Henrikh Mkhitaryan was tidy in possession for much of the match and worked hard up and down the pitch.
Sub: Gabriel Martinelli (71′) – 5
He'll be frustrated. Gabriel Martinelli missed a great opportunity to win the match for the Gunners.
Mesut Ozil – 7.5
Mesut Ozil did well. The German worked hard and had some excellent moments in possession.
Sub: Bukayo Saka (71′) – 7
He made a big impact in a short space of time. The 17-year-old Bukayo Saka was sharp throughout but very nearly grabbed a couple of assists to go with it.
Reiss Nelson – 6
He had some good moments in the first half. Reiss Nelson looked sharp and started well but did drift out of the match as it progressed. The Gunners needed an extra man in midfield and he was the obvious sacrifice.
Sub: Matteo Guendouzi (45′) – 7
He did well enough after the break. Matteo Guendouzi looked sharp and moved the ball with a real zip.
Pierre-Emerick Aubameyang – 8
Another solid performance from Pierre-Emerick Aubameyang in the pre-season. His goal was astonishing but it was matched by his all-round game.
Sub: Eddie Nketiah (85′) – N/A
Barely involved.
Facebook Comments