---
Arsenal lost 3-1 to Manchester City to continue their awful run of form away at the Premier League's top six.
—–
Matchday: Team News – Player Ratings – Match Highlights
Match: Manchester City v Arsenal
Stadium: Etihad Stadium
Kick-Off (GMT): Sat 4 Nov 14:15
—–
The Gunners started fairly well in this crucial Premier League match. Arsene Wenger's men pressed incredibly high in the opening stages and City couldn't deal with them. Changes were created for Alex Iwobi, Alexis Sanchez and Mesut Ozil but none of them could be converted.
City eventually woke up. They stopped playing the ball out of defence and instead surpassed the Gunners' press by directly finding their midfielders. It paid dividends with Kevin De Bruyne benefitting immensely. The Belgian crafted some crisp interplay on the edge of the Arsenal box. De Bruyne had hit it low and hard and into Cech's far corner.
1-0 City but the Gunners had perhaps the best chance of the first-half. Aaron Ramsey picked up the ball in the box and hit it low and hard but City's Ederson was on hand to make a sharp stop.
Don't Miss:
The second-half began but it didn't take long for Man City to continue their goalscoring record. One ball over the top left Nacho Monreal slightly exposed and with Raheem Sterling racing to the ball, the Spaniard brought him down. The referee pointed straight at the spot and like seemingly every other penalty the Gunners concede, it was converted with ease.
Arsene Wenger elected to change things up after the second. Francis Coquelin was replaced by Alexandre Lacazette with the Gunners playing a back four for the first time in six months.
It paid off quite quickly. First Alex Iwobi tested Ederson with a long shot but before the Gunners gave their fans some hope. Aaron Ramsey broke forward with the ball and slid it through to Alexandre Lacazette on the right. The Frenchman took a couple of touches into the box and slotted between Ederson's legs.
The game opened up in the minutes that followed with Arsenal smelling blood. However, City just didn't let them have the ball. The home side started dictating possession and secured the three points without really leaving first gear.
A couple of simple passes around the Arsenal box and David Silva was free to pick out an unmarked Gabriel Jesus. Silva was offside but while the Gunners stood there protesting, City were celebrating an impending win.
Here's how we rate the Arsenal players:
GK) Petr Cech – 5
He had some good moments. Petr Cech made a couple of excellent stops with the score at 2-1 but perhaps could have done a little better for the opening goal.
RCB) Laurent Koscielny – 4
Laurent Koscielny was caught out of position on a couple of occasions and just couldn't seem to get going this afternoon. The Frenchman also seemingly gave up for City's third goal.
CB) Francis Coquelin – 5
When Francis Coquelin's name was announced on the team sheet, many assumed that Arsenal would make a change in formation. Instead, the Frenchman started at the centre of the back three and put in a fair performance considering how alien the position is to him.
Sub: Alexandre Lacazette (56′) – 7
He made an impact. Alexandre Lacazette was a threat and grabbed the Gunners' only goal. Why didn't he start?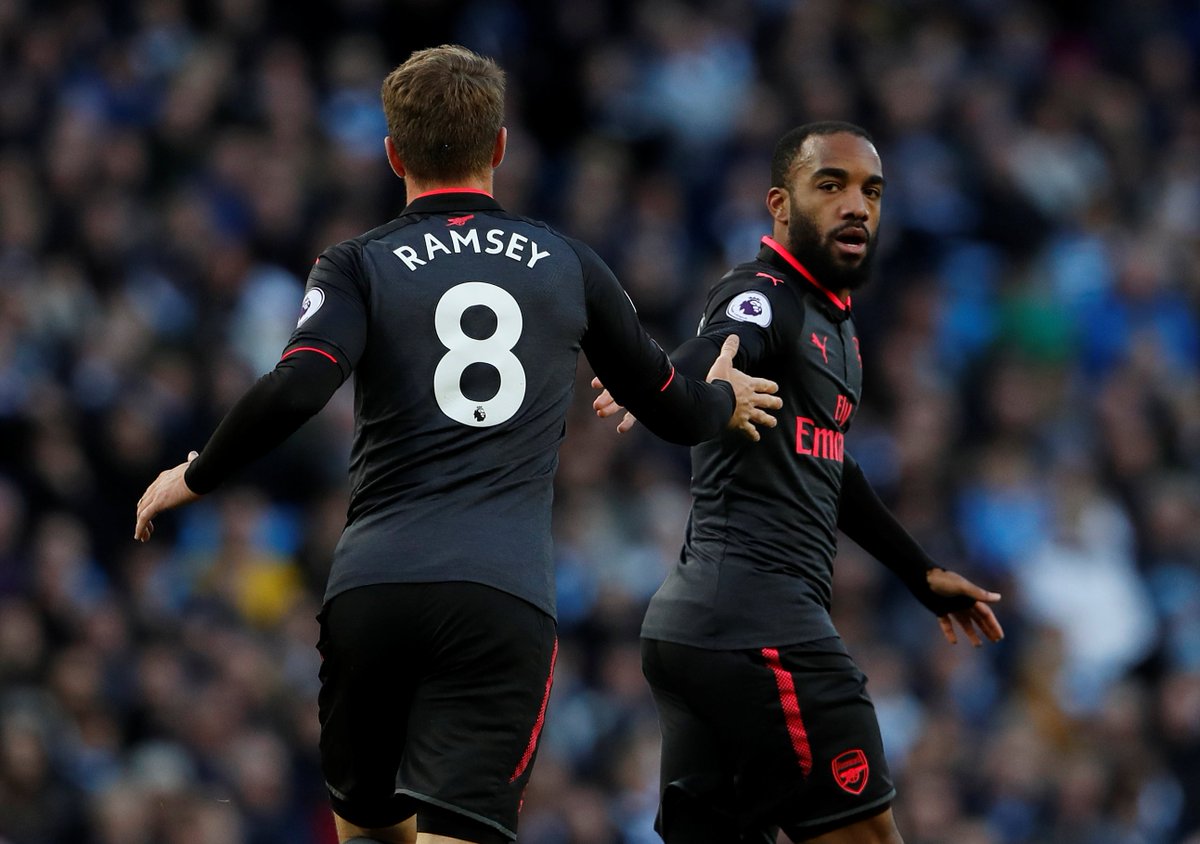 LCB) Nacho Monreal – 4.5
It was Nacho Monreal's error which led to City's second goal to cap a less-than-impressive performance from the Spaniard.
RWB) Hector Bellerin – 5
He did okay. Hector Bellerin wasn't really allowed to attack and with Leroy Sane having such a quiet game on City's left, he didn't have to do much defending either.
RCM) Granit Xhaka – 4
He's played better. Granit Xhaka just couldn't get hold of the ball and start dictating possession as he likes to do.
Sub: Jack Wilshere (78′) – N/A
A few nice touches but didn't see much of the ball.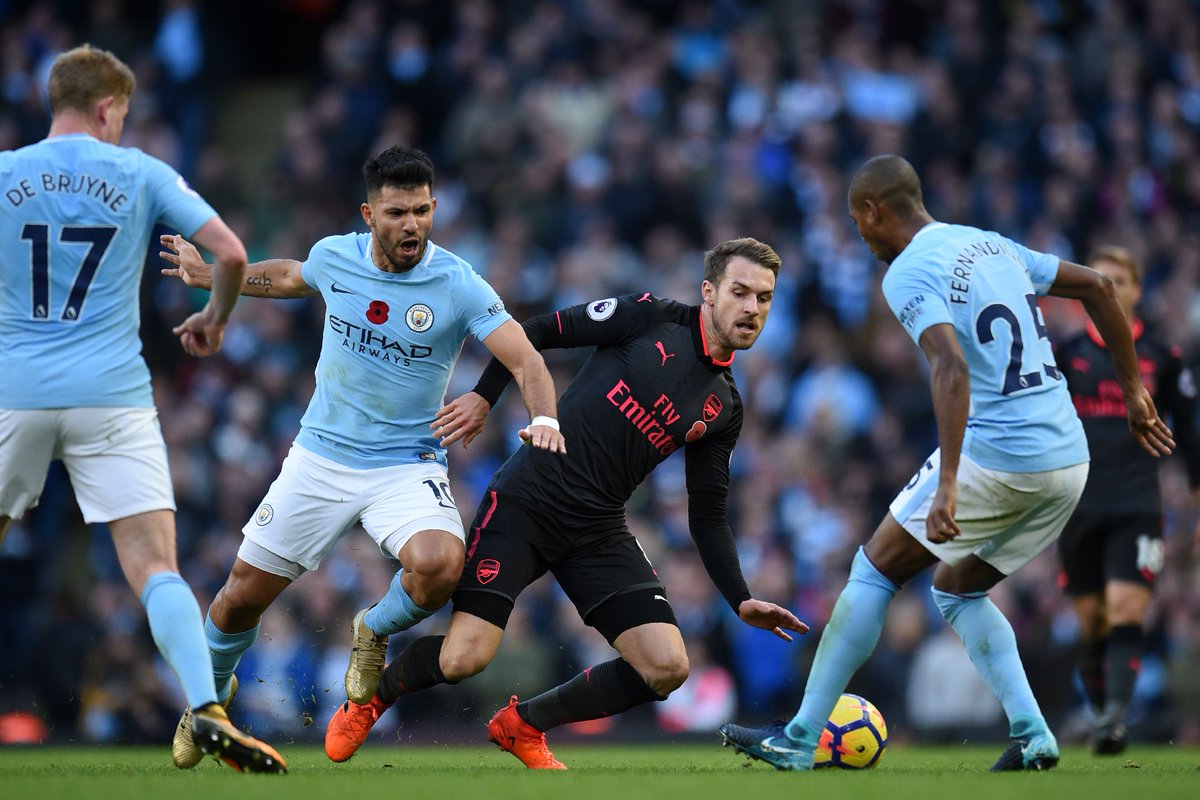 LCM) Aaron Ramsey – 6
He was a threat. Aaron Ramsey continued his good run of form with an assist and a couple of near-misses today. The Welshman moved forward well and was fine defensively.
LWB) Sead Kolasinac – 6
Sead Kolasinac did okay today. He defended well against the pacy Raheem Sterling for the most part and put in a couple of crunching defensive challenges.
RAM) Mesut Ozil – 5.5
A bit of a mixed bag from Mesut Ozil. He was quiet at times but just couldn't get enough of the ball to really threaten City.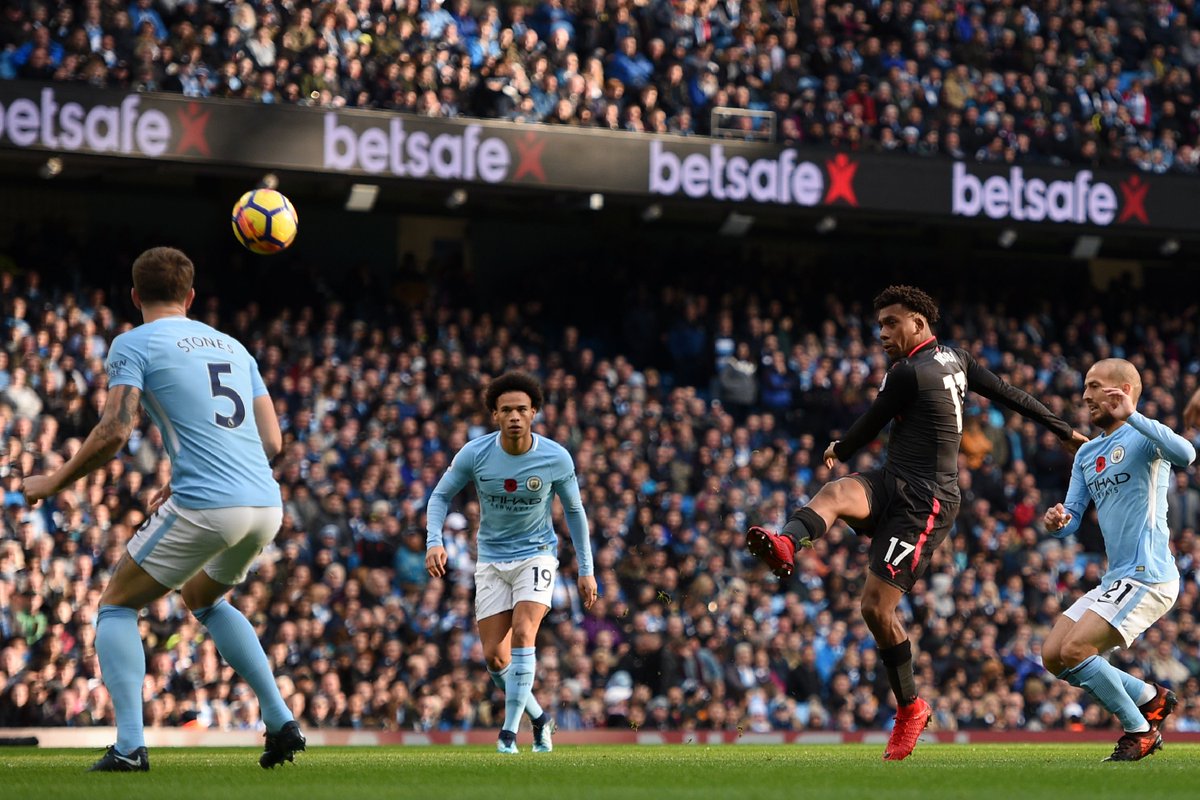 LAM) Alex Iwobi – 4
Barring a ten-minute salvo, nothing went right for Alex Iwobi today. He lost possession on far too many occasions and his final pass was generally poor.
Sub: Olivier Giroud (78′) – N/A
Didn't seem to touch the ball.
ST) Alexis Sanchez – 4
He was far from his best. Nothing seemed to go right for Alexis Sanchez today. Admittedly, he was isolated up front for large spells of the game but basic problems like a lack of set-piece delivery cannot be ignored.
Facebook Comments