---
Alisher Usmanov has claimed that he will not be holding any talks with Stan Kroenke over a potential sale of his Arsenal shares (via The BBC).
It would have been a huge blow for many Arsenal supporters had Alisher Usmanov accepted Stan Kroenke's offer to buy out his shares.
Kroenke is the majority owner of the club but the reported £525 million acquisition of Usmanov's share would've taken the American tycoon's holdings up to 97%.
The American is a hugely unpopular figure with many supporters so naturally there was anxiety about his potential ownership. However, Alisher Usmanov has released a statement which will be music to the ears of Arsenal fans.
"I see my 30% stake as an important aspect in protecting the best interests of the fans in the club," Usmanov wrote.
Don't Miss:
"My interest in Arsenal from the beginning was long term and my intention has always been to buy additional shares should they become available.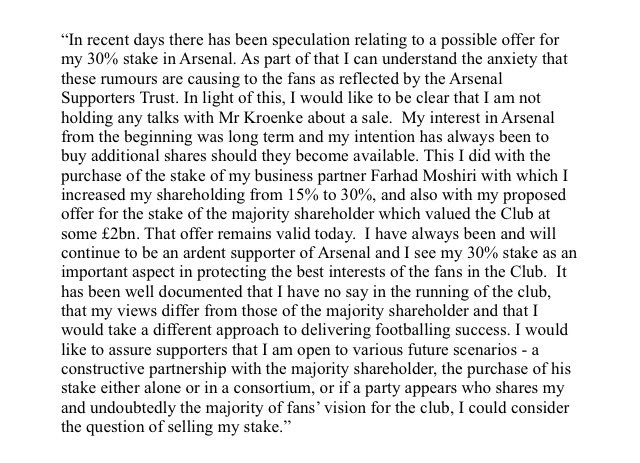 "I would like to assure supporters that I am open to various future scenarios – a constructive partnership with the majority shareholder, the purchase of his stake either alone or in a consortium, or if a party appears who shares my and undoubtedly the majority of fans' vision for the club, I could consider the question of selling my stake."
Usmanov said all the right things in his statement. The Uzbek businessman is vital in the long-term future of the club as an attempt to combat Kroenke's awful leadership since becoming majority owner. Let's hope Usmanov can deliver on his promises.
Facebook Comments